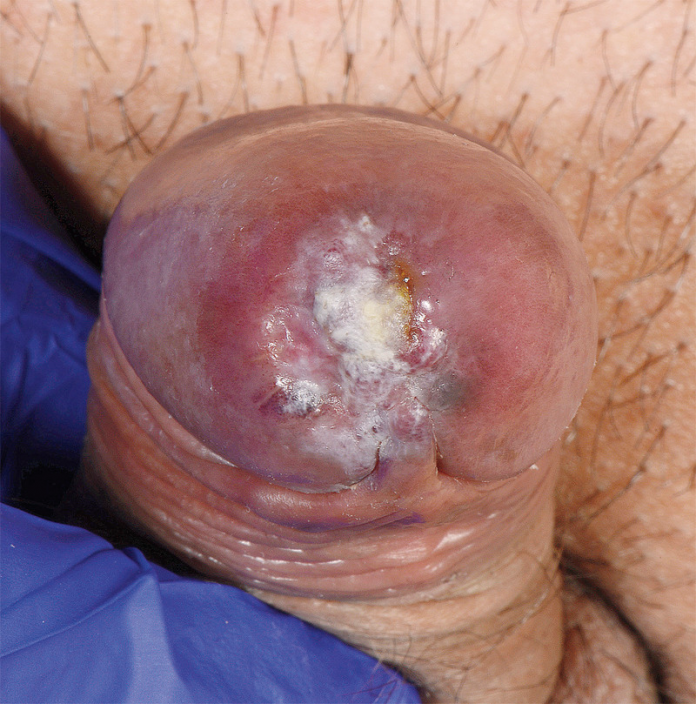 A 49-year-old male patient with HIV infection presented to the clinic with multiple slow-growing and ulcerated lesions on the penis. He had been sexually active with male partners and had not taken antiretroviral therapy for 2 years.
A 49-year-old man with human immunodeficiency virus (HIV) presented to the HIV clinic with ulcerated, violaceous and slow-growing lesions on the gland penis and external urethral meatus. According to the patient, the lesions had appeared several weeks ago. The man had been sexually active with male partners and had not been taking any of the prescribed antiretroviral medication for 2 years.
Laboratory studies showed that the patient's CD4 cell count of 48 per cubic millimetre (normal range, 500 to 1200) and an HIV viral load of 395,913 copies per millilitre. Further tests to confirm the diagnosis were negative for chlamydia, gonorrhea, syphilis and herpes simplex virus infection. An incisional biopsy was performed; histopathological analysis of the biopsy was consistent with the diagnosis of Kaposi's sarcoma. Computed tomography of the pelvis, abdomen and chest did not show any extracutaneous involvement.
Kaposi's sarcoma
Kaposi's sarcoma is a type of cancer caused by human herpesvirus 8 (HHV-8) and typically affects immunocompromised patients. It was first described in 1972 by Moritz Kaposi. It is a tumour of vascular origin and initial presentation on the penis is uncommon, however, often observed in AIDS patients. Patients with AIDS usually develop an aggressive form of disease.
The patient's penile lesion resolved completely with treatment.
References
Grandi, V., & De Francesco, I. (2020). Penile Kaposi's Sarcoma. New England Journal of Medicine, 382(12), e20.