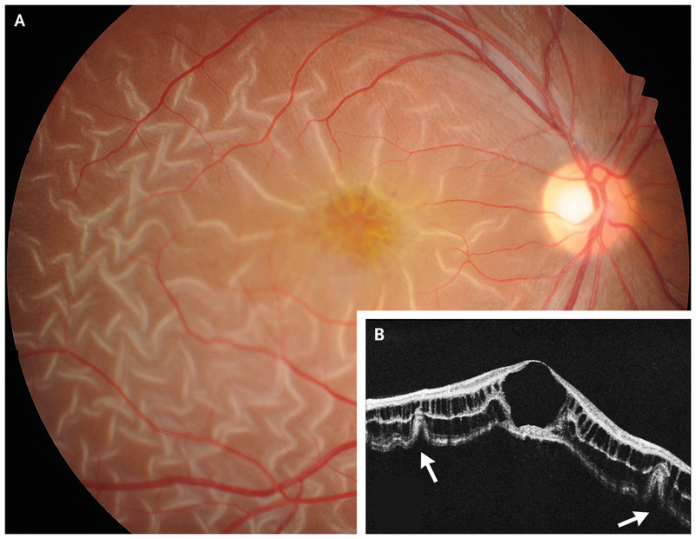 A 19-year-old boy with X-linked retinoschisis presented with worsening of vision in his right eye. On examination, diffuse retinochosis, corrugation of deep layers of retina and full-thickness retinal detachment was revealed.
A 19-year-old male patient presented to the clinic with his vision worsening in his right eye. According to him, his vision had started worsening 3 days ago. He had been diagnosed with X-linked retinoschisis at 5 years of age. At the time of diagnosis, macular cystic degeneration and reduced visual acuity in both eyes had also been noted.
X-linked retinoschisis
X-linked retinoschisis is a condition that affects the retina. It begins in childhood and is characterised by impaired vision. The disorder almost exclusively occurs in males.
The visual acuity of the patient in the right eye was 20/70 and in the left eye was 20/40. In addition, examination of the right fundus showed prominent retinal corrugation that radiated from the normal vasculature and fovea. Optical coherence tomography showed diffuse retinoschisis, corrugation of the deep layers of retina and full-thickness retinal detachment.
However, the patient was treated non-surgically since no retinal tears were observed. The patient was prescribed a 2-week course of daily oral acetazolamide. The retinal detachment resolved after completion of the course of medication. The visual acuity of the patient returned to a baseline of 20/40 in follow-up in both eyes.
References
Lee, Y., & Oh, B. L. (2020). Retinal Detachment in X-Linked Retinoschisis. The New England Journal of Medicine, 382(12), 1149-1149.