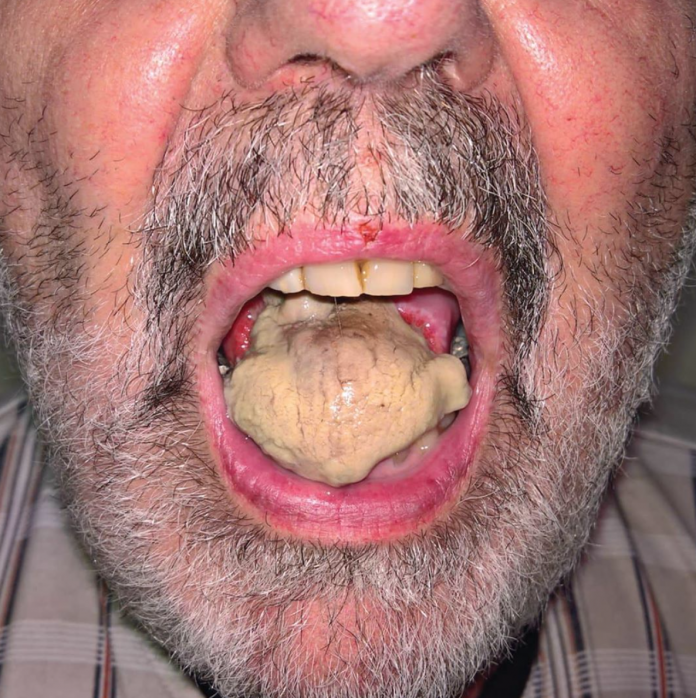 A 66-year-old patient was referred for a fever and rapidly progressive deterioration of his general state. The first symptoms appeared several days before, while the patient was visiting Thailand: fever and unusual bilateral headaches were followed by glossodynia and jaw claudication. Within about 2 h, tongue edema and jaw pain appeared.
An erythematous and scabbed rash then developed on the patient's scalp, featuring a necrosis area.
The tongue evolved toward cyanosis, further to necrosis. The patient's case history included bilateral shoulder arthralgia. C-reactive protein was 120 mg/l, and temporal artery biopsy confirmed the diagnosis of GCA. Treatment consisted of high-dose intravenous corticosteroids (methylprednisolone, 1.5 mg/kg/d for 3 d). Articular pain, headaches, and ophthalmologic symptoms drastically improved in < 48 h, while the scalp lesions responded at a slower rate. Emergency surgery for resection of the tongue necrotic tissue was performed. Because there was satisfactory primary healing, no further treatment was required.
Giant cell arteritis (GCA) is a form of vasculitis involving medium- and large-sized arteries, which mainly affects the extracranial branches of the internal and external carotid arteries, particularly the temporal artery. Clinical findings are headache, jaw claudication, fever, pain, and thickening of the temporal artery. Although unusual as an initial manifestation, tongue necrosis is an important alert for diagnosing giant cell arteritis. Early diagnosis and treatment of this atypical manifestation may reduce morbidity.

Source: IG@medicalpedia
Credit: The Journal of Rheumatology June 2018; DOI: https://doi.org/10.3899/jrheum.171321