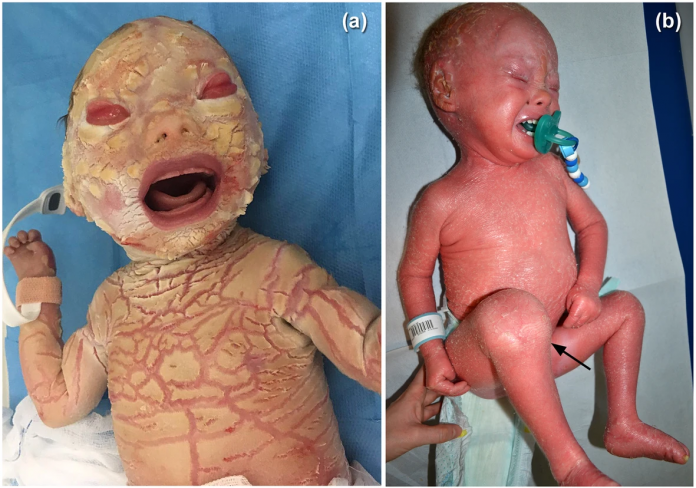 A boy weighing 2.300 g was born by cesarean section at 35 weeks due to Premature Rupture of the Membrane (PROM). The pregnancy was uneventful and the parents were not related.
Clinical presentation
The neonate was born with auditory ducts ending in the neck, dysmorphism of the ear cartilage, flattened nose, eclabium, ectropion, opaque plate-like keratotic scaled with deep red fissures and thickened skin. In addition, fingers and toes presented with pseudo-syndactyly, strictures and flexion contractures.
The clinical findings were consistent with the diagnosis of juvenile idiopathic arthritis with Harlequin Ichthyosis. Moreover, genetic testing confirmed the clinical suspicion Harlequin Ichthyosis, a more severe variant of autosomal recessive ichthyosis.
Harlequin Ichthyosis is rare skin disorder
Harlequin Ichthyosis is a rare genetic disorder that mainly affects the skin. It is potentially lethal and is associated with severe morbidity. is a rare genetic disorder that mainly affects the skin. It is potentially lethal and is associated with severe morbidity. Neonates with the disorder present with thick-plaque like scales all over the body associated with joint contractures, electrolyte imbalance, pain, recurrent infections and poor thermoregulation. Whereas, juvenile idiopathic arthritis manifests before the age of 16 years and persists for more than 6 weeks. An association between the two pathologies is a very rare event, moreover, a diagnostic and therapeutic challenge.
Treatment plan for newborns with Harlequin Ichthyosis
The neonate was started on oral retinoids since day one. Similarly, underwent global care to prevent or reduce extracutaneous complications and improve skin hydration. Skin treatment included ointments containing vaseline, paraffin oil and glycerin for six times a day. The vaseline was also applied on the eyebrows and scalp. The baby also underwent multiple platelets and red cells transfusions for anaemia and thrombocytopenia and intravenous antibiotics for recurrent sepsis.
Severe bilateral transmissive deafness was detected at 2 months because of otodisplasia. At 3 months, there was marked swelling of the right knee with a presentation similar to septic arthritis. The baby was initially treated with systemic antibiotics with an unsatisfactory response. Athrocenthesis with aspiration of yellow turbid synovial fluid and subsequent intra-articular injection of triamcinolone hexacetonide was administered. A year later, complete remission of the right knee was obtained with no side effects or limitation. Moreover, no other joints had been involved in the meantime.
References
Auriti, C., Rotunno, R., Diociaiuti, A., Manzoni, S. M., Uva, A., Bersani, I., … & El Hachem, M. (2020). Juvenile idiopathic arthritis in infants with Harlequin Ichthyosis: two cases report and literature review. Italian Journal of Pediatrics, 46(1), 1-6.