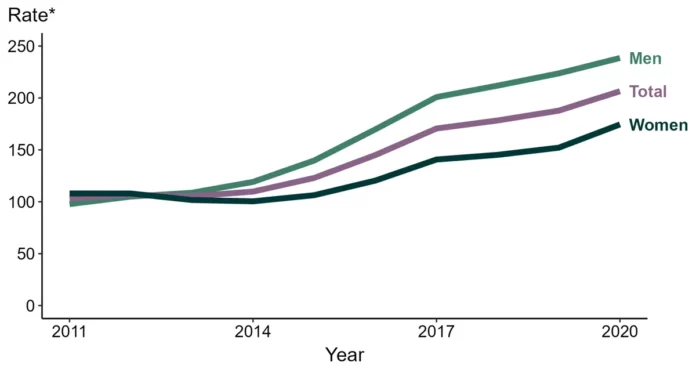 For the first time in the US, two cases of a novel gonorrhoea strain have been reported.
On January 19th, the Massachusetts Department of Public Health (DPH) said that the bacteria picked up potent anti-drug resistance. Moreover, it also showed responses to five different antibiotics.
Both cases were treated successfully after administering a high-dose ceftriaxone injection. It is currently the prescribed antibiotic to treat gonorrhoea. However, according to the health authorities, the pairs of cases are worrying.
Public Health Commissioner of Massachusetts, Margret Cooke said,
Cooke added,
Furthermore, no link has been found between the cases, which means there are more unknown cases out there.
Genetical Analysis of the Gonorrhoea Strain
The scientists analyzed the genetics of the strain to track its movements. They discovered the genetic marker was like the one previously seen in Nevada. However, the strain remained sensitive to at least one class of antibiotics.
Moreover, this is the first time the gonorrhoea strain has been reported in the US. It has been reported in the UK and Asia Pacific previously.
According to CDC, gonorrhoea is the second most reported STI in the US with 677,769 cases documented in 2020. Moreover, the cases are on a rise with a 111% increase since 2009.
The issue is tremendously threatening to humans. Humans have heavily relied on antimicrobial agents and antibiotics for years, leading to drug resistance and a decrease in effectiveness. It is without any doubt a big threat to global health.