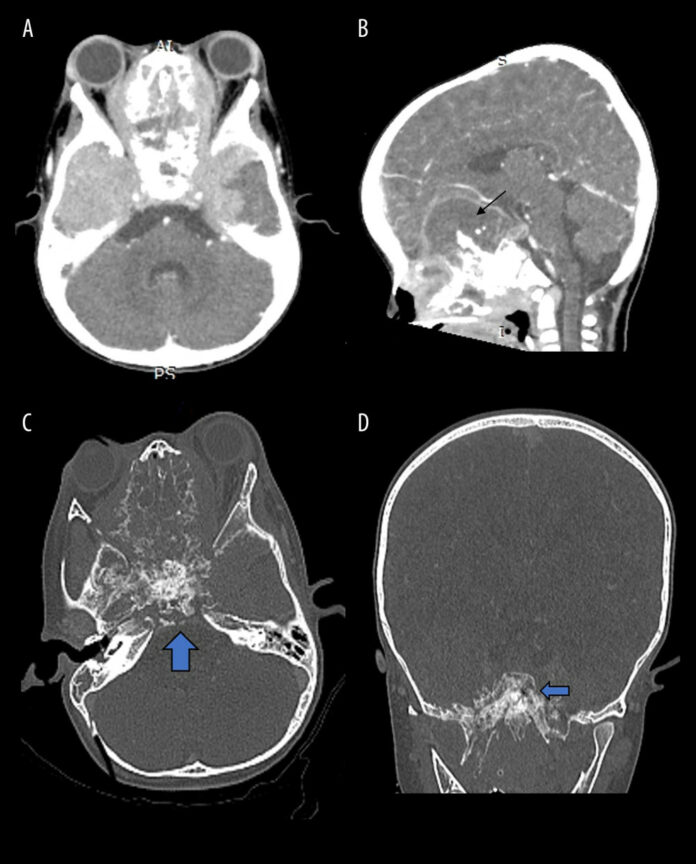 Case study: primary Ewing sarcoma
This article describes the case of a 4-year-old girl diagnosed with skull base primary Ewing sarcoma. The patient presented with an episode of generalised tonic-clonic seizure that lasted for 2 minutes. On questioning the patient, the parents reported that she had a 2-month history of vomiting and gradual vision loss. Other symptoms included weight loss and protrusion of the eyes for 1 month.
According to the parents, the patient's symptoms had worsened 4 days before admission with increased projectile vomiting. In addition, signs of near blindness were also evident and the patient could only perceive light and had an inability to walk. She also experienced fever with seizures on the day of admission. The developmental milestones were appropriate for her age. Her Glasgow coma scale score showed that she was completely responsive. Similarly, her bilateral pupils were reactive to light. However, her neurological examinations showed reduced muscle power and hyperreflexia of the upper and lower limbs. There were no significant findings in the cardiovascular, respiratory and gastrointestinal examinations.
Investigations and findings
Laboratory tests were significant for neutrophil leukocytosis and hyponatremia. Doctors suspected meningitis and referred the patient for a pre-and post-contrast computed tomography (CT) of the head. The post-contrast CT was significant for an infiltrative, ill-defined and predominantly homogenous enhancing mass. The mass had a mixed solid and cystic appearance with internal calcification and multiple foci of necrosis arising from the base of the skull. This involved the anterior and middle cranial fossa and caused extensive local infiltration with bony erosion.
The mass was seen to be extending inferiorly with obliteration of the sphenoid fossa, masticator space, prevertebral space and posterior nasopharynx with significant narrowing of the airway. The mass further extended anteriorly causing bilateral proptosis.
Diagnosis and treatment
Pre and post-contrast MRI of the brain confirmed the findings of the CT and showed a multilobulated mass. Initially, the doctors suspected olfactory neuroblastoma or esthesioneuroblastoma, with the differential diagnosis of olfactory neuroepithelioma or extraskeletal Ewing sarcoma. The mass was seen originating from the paranasal sinus or nasal fossa. For further evaluation a nasendoscopy examination was done which showed a fungating mass occupying the whole of the left nasal cavity. Histopathology confirmed the diagnosis of Ewing sarcoma. Based on the location of the tumour, and the risk of surgery, after the parents' consent, the patient was treated with a regimen of 6 cycles of chemotherapy.
Follow-up showed a near-total resolution of the tumour both intracranially and intranasally. Doctors advised surgery for the removal of the residual tumour but the parents refused treatment at the facility 6 months after completion of radiotherapy and chemotherapy.
Source: American Journal of Case Reports