This case is of a Pakistani woman who came to OPD on 19th July 2017 with a 7-month history of pain, gritty sensation and dryness in both her eyes and pus discharge from her left eye with progressive bilateral loss of vision which eventually led to complete loss of vision till the time patient presented. Also, photophobia began in her right eye 2 months back. Although she had been taking treatment from local clinics and was kept on antibiotics during this period no improvement was seen.

Along with the eye complains she also had painful and stiff joints for the past 2 months. Oral ulcers and xerostomia (dry mouth) were also reported by her. Joints involved were mostly the small joints of the hands and feet with morning stiffness of about 30 to 45 minutes. The examination of her joints confirmed her history when acute synovitis was noted in both hands and feet.
Eye examination revealed a complete visual loss in her left eye i.e. no light perception, whereas the right eye was 6/6. Slit-lamp examination revealed damaged left cornea, peripheral ulceration in the right eye, scleral thinning, visible uveal tissue and thinning of cornea in the lower outer (temporal) quadrant.

Blood test reports came back with the following results:
Haemoglobin – 10.2 mg/dl
Mean corpuscular volume (MCV) – 66
Erythrocyte sedimentation rate (ESR) – 15.
Positive RA factor (191.9 IU/ml)
Positive C-reactive protein (CRP)
Anti-citrullinated cyclic polypeptide (CCP) – 32 IU/ml.
Methylprednisolone drops were started for her right eye for 3 days, oral methotrexate, analgesics, proton pump inhibitor (PPI), and folic acid supplementation.
After 3 months steroids were tapered off and hydroxychloroquine was initiated with instructions to follow-up.
The case described here is of a very rare complication of rheumatoid arthritis, scleromalacia perforans. Rheumatoid arthritis (RA) is an autoimmune disorder that causes inflammation and deformities of the joints, but since it's a systemic disease it also affects other organ systems, therefore, as a complication it can affect the eyes too. Scleromalacia perforans is a form of anterior scleritis, although a rare one, which affects the episcleral and scleral vessels by an autoimmune reaction. It is a type III hypersensitivity reaction that progresses silently without showing symptoms until the eyes get a visible blackish blue hue due to exposure of the bare choroid secondary to scleral thinning and necrosis. This complication of the eye is usually preceded by at least a 10-year history of joint symptoms and RA, making the case in the discussion here a unique one because she presented with ocular symptoms without a prior diagnosis of RA.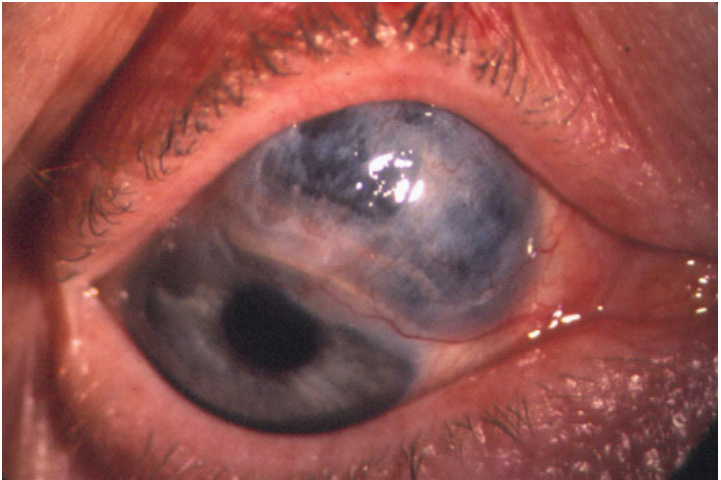 Though scleromalacia perforans is a clinical diagnosis, laboratory test s
Unfortunately, there isn't any effective treatment option available. Topical NSAIDs and steroids are given with the hope of potential benefit. Immunomodulators or biologics such as cyclophosphamide, methotrexate, azathioprine, cyclosporine, etanercept, infliximab, etc imparted beneficial effects in noninfectious cases.

Surgical measures may be necessary to maintain the integrity of the globe by grafting. Having said that, scleromalacia perforans is a rare but blinding complication of RA, with no definitive management strategy, so the treating physician/ rheumatologist in collaboration with an ophthalmologist (eye specialist) should always vigilantly look out for it with utmost concern.
References:

Ghauri, M. I., Riaz, S. U., Husain, A., Jafri, A. R., & Bashir, Z. (2018). Scleromalacia perforans: a case report. Journal of medical case reports, 12(1), 155. https://doi.org/10.1186/s13256-018-1686-z

Kopacz D, Maciejewicz P, Kopacz M (2013) Scleromalacia Perforans–What We Know and What We Can Do. J Clinic Experiment Ophthalmol S2: 009. DOI:10.4172/2155-9570.S2-009

American Academy of Ophthalmology. Scleromalacia perforans.
https://www.aao.org/image/scleromalacia-perforans-3 Accessed July 18, 2019.

Norman Ashton And H. E. Hobbs Effect Of Cortisone On Rheumatoid Nodules Of The Sclera (Scleromalacia Perforans). 1952; Br J. Ophthal.