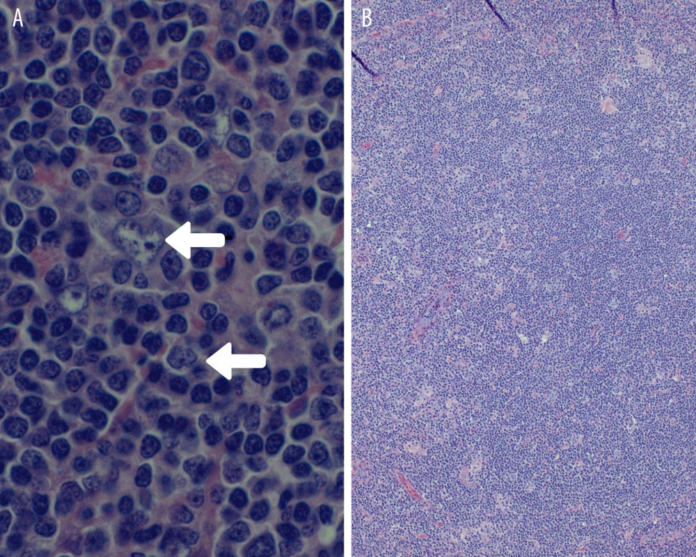 Hodgkin's Lymphoma
Hodgkin's lymphoma is described as an acquired immune deficiency syndrome (AIDS)-defining malignancy in patients who are infected with human immunodeficiency virus (HIV). Studies have shown that HIV-positive patients are at a higher risk of developing Hodgkin lymphoma (HL) compared to patients who are HIV-negative. Increased CD4+ T cell response provides antiapoptotic pathways and mechanisms for immune escape by tumour cells.
Similarly, the incidence of Hodgkin's lymphoma has increased in patients following the use of ART. The most common histological type of Hodgkin's lymphoma is mixed cellularity lymphoma. Hodgkin's lymphoma in HIV patients is usually aggressive and presents with an unfavourable subtype. Moreover, compared with non-HIV patients, the therapeutic outcome is poor. This article describes the case of a 58-year-old patient diagnosed with nodular lymphocyte-predominant Hodgkin lymphoma (NLPHL). The patient was HIV positive and under treatment with ART.
Case report
A 58-year-old male patient presented to the clinic for evaluation of a mass in the left axillary region. According to the patient, the mass had been present for several years. The patient's medical history revealed that he had been diagnosed with HIV in 2005. However, his HIV was well-controlled on ART. There were no signs of fever, weight loss, night sweats and chills. Physical examination did not show any significant findings other than mild tender left anterior axillary lymphadenopathy.
Doctors further advised laboratory tests which showed a total leukocyte count of 7.1 K/uL, haemoglobin 16.1 g/dl and 304 K/uL platelet count. Renal and liver functions were also normal. CD4 count was 1262 cells cells/L, whereas the viral load was within an undetectable range. He was further referred for a computed tomography of the chest and neck which was significant for bilateral enlarged jugular chain lymph nodes. In addition to left axillary adenopathy measuring 3.5 x 2.0 cm. The findings are consistent with the diagnosis of an underlying neoplastic process.
The patient also underwent a staging position emission tomography-computed tomography (PET/CT). There were signs of focal uptake in the left axillary lymph nodes. However, no other site was involved. The axillary lymph nodes measured 1.8×1.3 cm and 1.3×1.0 cm. Histopathological analysis was significant for "normal architecture with histiocytes, lymphocytes, and typical lymphocyte-predominant (LP) cells ('popcorn' cells), which expressed BCL-6, CD-20, and EMA, consistent with a diagnosis of NLPHL".
Treatment and prognosis
Doctors advised, "a total dose of 3600 centigray (cGy) in 18 fractions at a daily dose of 200 cGy per fraction for 1-month duration according to National Comprehensive Cancer Network (NCCN) guidelines". The patient was called back for a follow-up after 5 months. PET/CT scan showed no evidence of malignancy.
The introduction of ARTs has significantly decreased the incidence of opportunistic infections and AIDS-defining cancers. For example, invasive cervical cancers, Kaposi sarcoma and aggressive B cell non-Hodgkin's lymphoma. Similarly, the incidence of Hodgkin's lymphoma has also decreased in patients following the use of ART.
It is believed that the mechanism of increased CD4+ T cell response and immune restoration provides an antiapoptotic pathway that allows immune escape by tumour cells. Hodgkin's lymphoma is the most common non-AIDS-defining malignancy in HIV patients that presents at unusual locations and typically at an advanced stage in individuals with HIV/AIDS.
The World Health Organization (WHO) classifies Hodgkin's lymphoma into 2 pathological types, nodular lymphocyte-predominant HL and classical HL (cHL). Classic Hodgkin's lymphoma is typically associated with HIV infection. It can further be divided into most frequent among patients with HIV and nodular sclerosis and lymphocyte-depleted. According to a cohort study that involved 104 patients with Hodgkin's lymphoma being treated with ART, mixed cellularity was the predominant histologic subtype. Most patients present with "B" symptoms and extra-nodal involvement. Based on the investigation findings, the patient was diagnosed with nodular lymphocyte-predominant type (NLPHL).
Nodular lymphocyte-predominant type Hodgkin's lymphoma (NLPH)
NLPH is a subtype of HL that accounts for 5% of patients diagnosed with HL. It is commonly seen in males and African Americans. Regardless of the status of HIV, once HL is diagnosed, the patients must undergo pretreatment clinical evaluation which includes, history, physical evaluation, laboratory evaluation, complete blood cell count, chemistry test, CD4 count, HIV viral load and viral serologies. In this case, the patient had a non-bulky early-stage NLPHL and was advised radiation therapy.
Source: American Journal of Case Reports