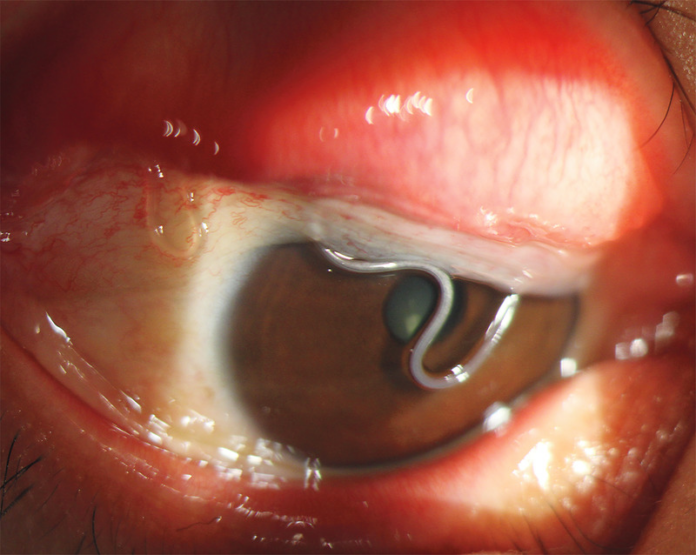 Ocular Thelaziasis
This article describes the case of a 34-year-old man diagnosed with ocular thelaziasis. The patient presented to the ophthlamology clinic with sensation of a foreign body and itching in the right eye. His medical history was unremarkable and he lived on a farm with his dog.
Doctors examined the patient's eye with slit-lamp microscopy which showed two live worms beneath the upper eyelid. The patient was administered a topical anesthetic and the worm was removed using a fine forcep. Creamy-white translucent worms were removed from the patient's eye. The university parasitology laboratory identified the worms as Thelazia callipaeda. The patient was diagnosed with ocular theleziasis. Thelazia callipaeda is a parasitic worm that is carried and transmitted by drosophilid flies. The worms feed on eye secretions and deposit their larvae in the eyes of the host. Typically the host is a dog but in rare cases, the worms deposit their larvae in humans.
The patient's pruritus resolved a month after the worms had been removed
Similarly, he no longer complained of the sensation of a foreign body in his eye. Neither did he report recurrence.
According to NCBI, "Thelazia callipaeda was first described in 1910 from a Chinese dog. The first case of human Thelaziasis was reported in 1917, wherein four worms were extracted from the eye of Coolie in Peiping, China and thereafter, a case of Human Thelaziasis (HT) in India was first reported from Yeroaud, Salem District in 1948."
Thaleziasis is defined as an arthropod-born disease of the eye and attachment or appendages caused by Thelazia callipaeda. Moreover, because it is mainly confined to South Asian countries and Russia, it is commonly referred to as Oriental Eye worm. It is also quite underreported and not given the clinical importance that is due. The disease is known to cause both extra and intraocular symptoms.
Source: NEJM