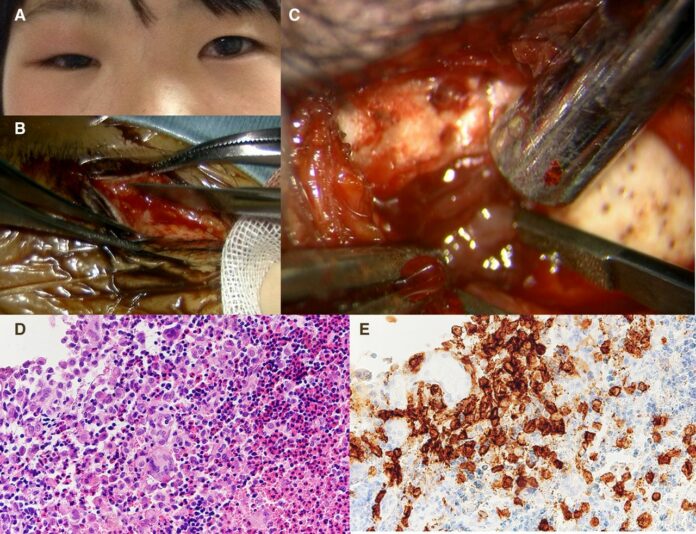 Langerhans cell histocytosis
This article presents the case of langerhans cell histocytosis in an otherwise healthy adolescent girl. She presented with right upper lid swelling and pain. Before this presentation, she had visited an external ophthalmology clinic where she was prescribed eye medications because of the suspicion of ocular herpes. Her right eye swelling improved only for a short while after the eye medications and relapsed.
There was no history of fever or any other systemic illness. Clinical examination was consistent with right eyelid swelling and tenderness. All other tests including visual acuity and field tests were within normal range. Whereas routine laboratory tests were also unremarkable. Doctors further advised a CT scan of the head which showed an osteolytic lesion in the frontal and zygomatic bones. An MRI was also done which was consistent with exophytic, infiltrative, heterogenously contrast-enhanced mass that extended from the intraorbital space to the subcutaneous space.
These findings led to the suspicion of Langerhans cell histocytosis (LCH)
Histopathological analysis of a biopsied lesion via a sub eyebrow incision ruled out all other tumours of the skull and abscess. As stated in the study, "Microscopically, the lesion consisted of large histiocytes with abundant eosinophilic cytoplasm and oval, folded or grooved nuclei with interspersed eosinophils, lymphocytes and multinucleated giant cells". The findings confirmed the diagnosis of langerhans cell histocytosis. Doctors further advised staging investigations, including whole body CT and bone scans whih showed no evidence of distant disease involvement.
Based on these findings, doctors diagnosed the patient with langerhans cell histocytosis. The patient was treated with induction prednisolone, cytarabine and vincristine for 30 weeks. She showed complete recovery of her upper eyelid swelling and pain within 4 weeks. LCH is very rarely presented in daily practice. Orbital LCH is extremely rare and accounts for less than 1% of all orbital tumours. However, because of a lack of understanding of the pathogenesis, optimal therapy and diagnosis still remain a challenge. As with this case, the patient was misdiagnosed with ocular herpes.
Source: BMJ