The wave of COVID-19 brought several changes in how people lived. Masks and gloves have become the new norm. Wearing a mask, no matter how uncomfortable for anyone, has been made compulsory either by the authorities or by the fear of falling victim to COVID-19.
But wearing a mask is not as easy as it sounds. It hides the smile, the identity, and the expressions, making communication difficult. The disposable masks are also heavy on the pockets of many as discarding masks daily or after each use is neither good for the pocket nor the environment. Above all, the face unlock feature on the smartphones cannot function with the opaque masks!
To restore the personal connection, a breakthrough has been made in the world of masks.
A new transparent face mask, the LEAF mask, has been developed. Leaf mask is the first FDA-registered clear mask of its kind with N99+ standard air filtration, self-sterilization, HEPA-Carbon filtration, and active ventilation. The active sterilization using high power UV-C has the capacity to destroy the DNA of the pathogens. Above all, the transparency has rebuilt the lost touch with the loved ones.
LEAF's Co-Founder, Lalit Verma, says:
"It's the right tech at the right time. While the world is hit by the COVID-19 crisis, rapid adoption of opaque face masks is threatening social security and public surveillance, and Leaf's transparency is key to secure scalable protection."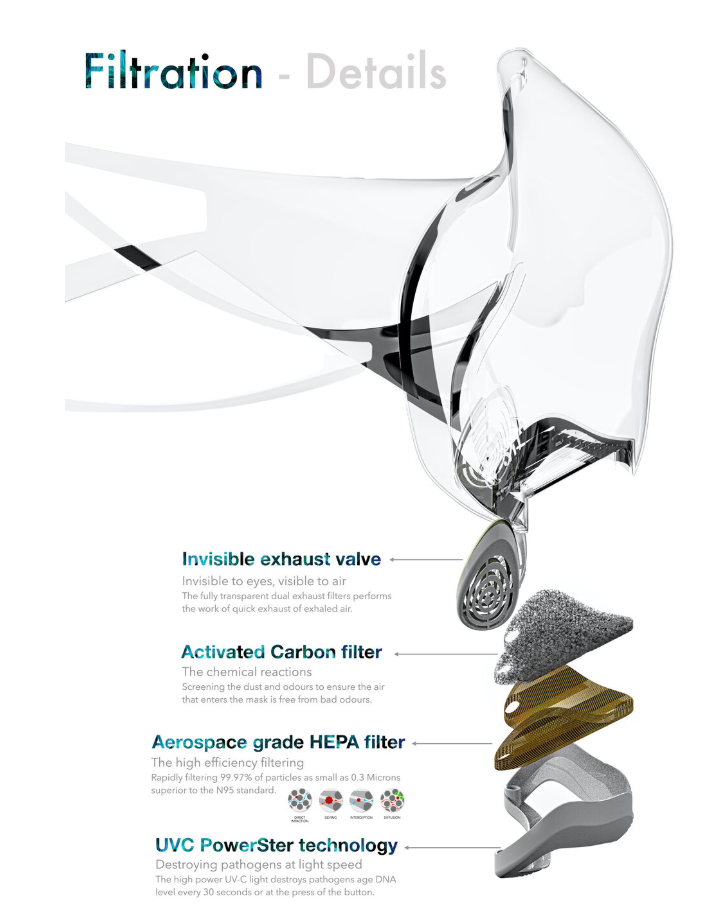 If it is transparent, where is the filter?
To maintain absolute transparency, the filter has been placed around the chin area, so the overall face is not obscured.
What is the material of the LEAF mask?
A high-quality, optical grade, soft, fire-retardant, reusable, and anti-fogging silicone with UV-protection is used.
Won't breathing be more difficult with this mask?
Thanks to the developers, the mask has been designed to cater to the effortless-breathing needs. It has a transparent dual exhaust that ensures effortless breathing.
Is it reusable?
Yes. The active sterilization capacity of the LEAF mask makes the filters last for up to a month.
Does the LEAF mask have any variants?
There are three variants:

1. LEAF HEPA- Has the gold standard HEPA filtration, with 99.9997% filtration. It is as small as 0.3 Micron.
2. LEAF-UV- It has the UV-C sterilization and Active carbon filter to destroy the pathogen and eliminate the odor and organic substances, respectively.
3. LEAF-PRO- This variant comes with the air-sensing capability and active ventilation. A smartphone App, called the Air-manager, can be linked to it, which maintains the sterilization and the ventilation systems according to the user's metabolism and particle count.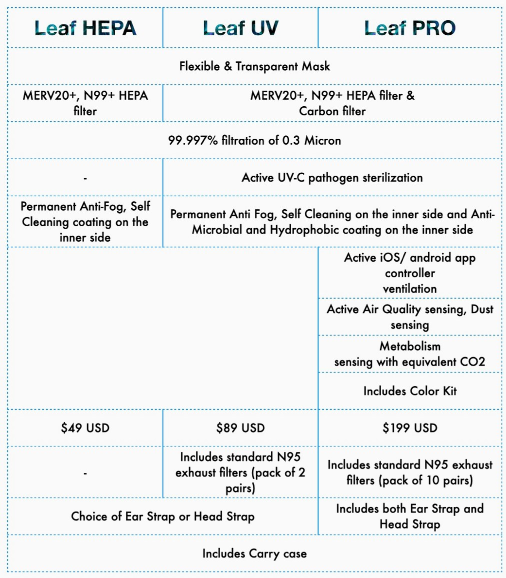 LEAF's Co-Founder and Innovation awardee Alex Lightman says:
"Leaf was designed to be the gold standard in the face mask in Covid19. It's 2020, and we now have a mask that looks and acts fully modern. It fundamentally changes our ability to defend ourselves from pathogens and pollution while enabling society to see who we are dealing with and to keep masks on while using face unlock biometrics."