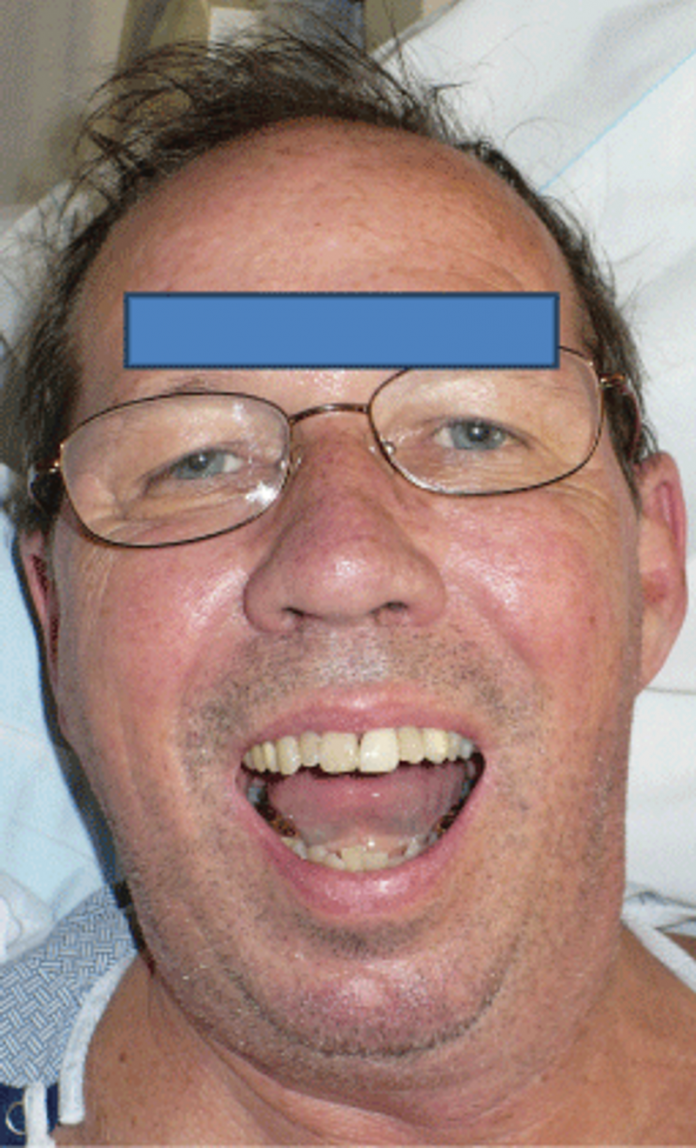 A 64-year-old male patient presented to the emergency department with a complaint of difficulty closing his mouth and pain in his jaw following a seizure.
The patient was accompanied by his wife to the emergency room who confirmed that there was no evidence of external trauma and neither did he fall after having the seizure. Neither was there any tonic clonic activity following the seizure. The seizure was led by a conversation him and his wife were having discussing dinner options when he suddenly yelled, contorted his face and became noticeably tense. As reported by the patient, he was tense for 30 seconds, approximately.
The patient had no other presenting signs and symptoms of pain or abnormal jaw functions before the seizure. Neither did the patient have a history of any facial trauma or seizure in the past. The patient was unable to close his mouth following the seizure.
Past medical history
Gastroesophageal reflux disease
Hypertension
Cerebrovascular accident (CVA), five and a half months before hospital admission.
Right frontal cerebral haemorrhage at the time of CVA, resulting in loss of coordination that resolved after two months of physical therapy.
The patient began taking levetiracetam which was discontinued with physical therapy which could have been a possible etiological factor to the seizure.
Social history
Drinking 3 to 4 vodka and tonics in a day.
The patient had discontinued drinking alcohol three days before the seizure which could also be an etiological factor.
Computed tomography of the patient revealed left condylar head subluxation and right condylar head fracture with medial displacement. However, the margins of the fracture were fresh which excluded the possibility of a pre-existing fracture.
The subluxated left condyle was reduced under general anaesthesia a day later after correcting low serum potassium. Upper and lower arch bars in maxillary and mandibular fixation were used to treat the malocclusion. Two-weeks postoperatively, intermaxiallry training elastics were used to stablise the jaw until full mandibular function was achieved with no pain.
The patient was suspected for mandibular bone disease, therefore, tests were ordered. He was diagnosed with borderline osteoporosis, osteopenia and vitamin D deficiency. He was started on a pharmaceutical regimen for metabolic bone disease.
References
Kalamchi, S., & Clifton, T. C. (2015). A Metabolic Stress Fracture of the Mandibular Condylar Head. Trauma Cases Rev, 1(002).