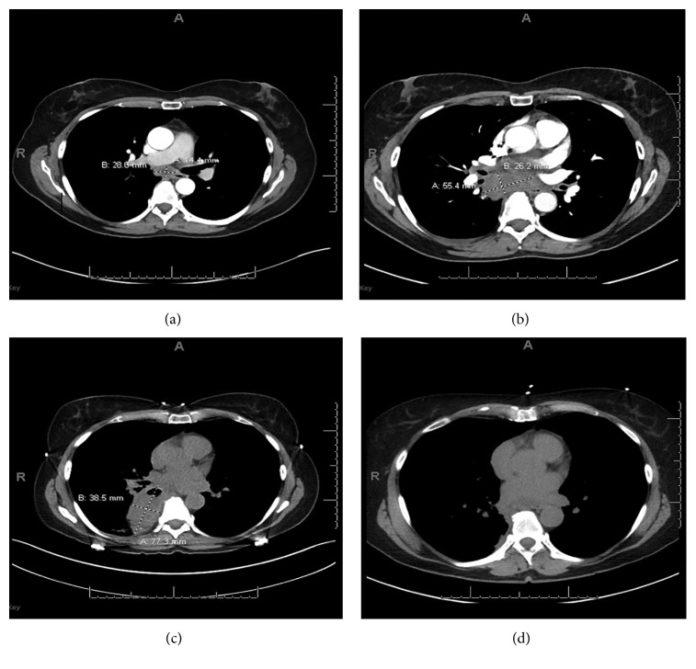 Mediastinal infection caused by Propionibacterium acnes.
This article describes the case of a 57-year-old female diagnosed with mediastinal infection caused by Propionibacterium acnes following endobronchial ultrasound-guided transbronchial needle aspiration. The female patient presented to the interventional pulmonology clinic for lung nodules evaluation. Doctors found the nodules incidentally while imaging for a chronic cough. She had a 4-month history of a dry cough, too.
Cultures and final cytology were negative for infectious and malignant causes.
Chest CT showed right lobe clusters of noncalcified, solid nodules. The largest nodule measures 10 x 15 mm with a 1.4 x 2.8 cm enlarged subcarinal lymph nodule. However, the patient did not have any complaints of weight loss, night sweats, anorexia, fever and chills. She had no smoking history, neither had any identifiable occupational or environmental exposures. Physical examination and initial laboratory tests were unremarkable. Doctors decided to biopsy the enlarged subcarinal lymph node to rule out histoplasmosis. Doctors performed the endotracheal ultrasound under conscious sedation, orally. Cultures and final cytology were negative for infectious and malignant causes.
Findings were consistent with an abscess.
The patient again presented to the emergency room, 10 days later with shortness of breath, low-grade fever and posterior right-sided chest pain that had worsened after the procedure. Physical examination was insignificant. Initial laboratory work showed mild leukocytosis. CT was remarkable of a large subcarinal mass causing a mass effect on the oesophagus and adjacent vessels. Doctors advised a mediastinoscopy for further evaluation. Findings were consistent with an abscess, however, with no evidence of malignancy.
The patient continued to have a cough two weeks later. Therefore, repeat imaging was done which showed a lung abscess in the superior medial right lower lobe. Doctors admitted the patient and put her on IV vancomycin and piperacillin-tazobactam. She was discharged on IV-ampicillin-sulbactam. She showed significant improvement after 18 days at follow-up. In addition, she was given oral amoxicillin-clavulanate for another month. The abscess showed to have nearly resolved at follow-up imaging.
References
Propionibacterium acnes Causing Mediastinal Infection following Endobronchial Ultrasound-Guided Transbronchial Needle Aspiration https://www.ncbi.nlm.nih.gov/pmc/articles/PMC6476028/