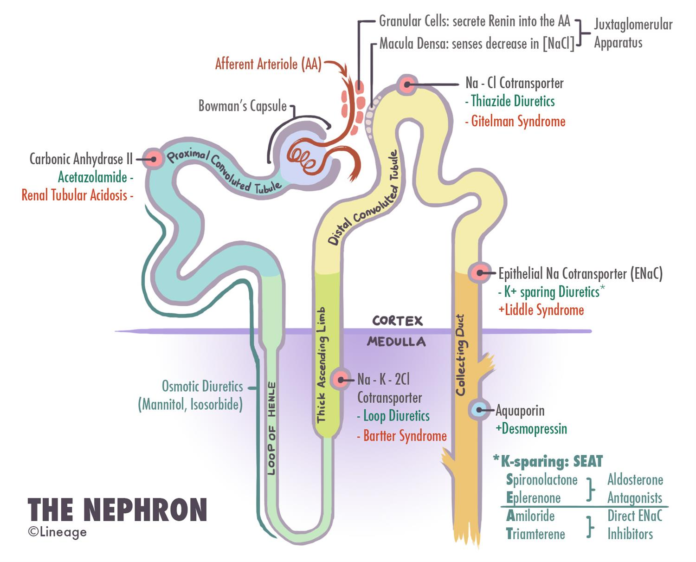 Gitelman syndrome is an inherited cause of metabolic acidosis as a result of salt losing tubulopathy (disease affecting renal tubules).
It mimics a thiazide-like tumour.
The condition commonly presents in late childhood or teenage years with nonspecific weakness and rarely seizures.
A 22-year-old female patient presented to the hospital with generalised weakness, vomiting and two episodes of tonic-clonic seizures that had occurred 24 hours before admission. In addition, she experienced 5 episodes of nonbloody and nonbilious vomiting. Doctors diagnosed her with Gitelman syndrome.
She further stated that she was feeling more lethargic than usual and her diet had become poor for the last two days. In addition to being in pain. Her medical history did not reveal any previous episodes of seizures in the past. There were no complaints of extremities swelling, periorbital puffiness, history of laxative or diuretic abuse, abdominal pain, diarrhoea or fever. Doctors prescribes lorazepam which successfully resolved the seizures.
Physical examination was remarkable of borderline low blood pressure and oxygen saturation of 100% while the patient was breathing ambient air. Similarly, systemic examination did not show any signs of dehydration. For further evaluation, doctors advised an EKG which showed nonspecific T wave changes and U waves changes. The patient's liver function tests and complete blood count were within normal range. Doctors suspected Bartter/Gitelman syndrome and primary hyperaldosteronism.
EEG was remarkable of epileptiform activity, confirming seizure activity. Her low blood pressure, high urine Cl and Ca and negative history of laxative/diuretic intake led to the diagnosis of Gitelman syndrome.
Treatment included potassium replenishment and antiepileptics. The patient's condition improved and she was discharged in a medically stable condition. Similarly, while discharging, she was advised to follow up with nephrology and neurology.
References
Gitelman Syndrome: A Rare Cause of Seizure Disorder and a Systematic Review https://www.ncbi.nlm.nih.gov/pmc/articles/PMC6379858/