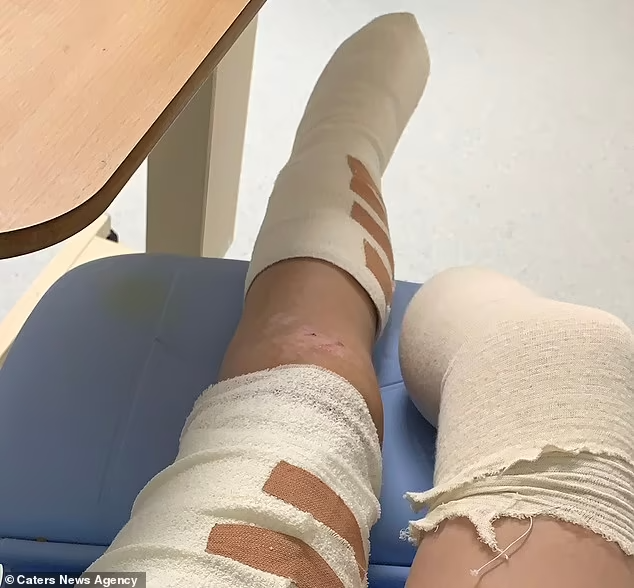 Deadly meningococcal septicaemia infection leaves 25-year-old without a leg.
A general physician's assistant had to have her leg and toes amputated after she contracted a deadly blood infection from a hot tub party. 25 year-old Lauren Briggs from Corringham, Essex, spent an evening with her friends in a hot tub. However, the next day, she woke up unable to breathe. She was immediately rushed to the hospital where doctors diagnosed her with a life-threatening blood infection meningococcal septicaemia. 
Meningococcal septicaemia is an infection of the blood stream caused by Neisseria meningitidis meningococcal septicemia or meningococcemia. The bacteria enter the bloodstream and damage the walls of the blood vessels, causing bleeding into the skin and organs. Although the doctors were able to save her life, they had to amputate her leg to stop the spread of infection.
Doctors concluded that the hot tub could have caused the infection.
She told the doctors that the night before she had been in her friend's hot tub with a cut on her foot in January. Hot tubs are filled with bacteria, therefore, there is a possibility that she was infected from there. She went to sleep feeling extremely nauseous that day. However, in the early hours of the next morning her friend found her gasping for air on the floor. Everything was a blur for Lauren from there. She woke up at the hospital confused because she has no idea what was going on. Doctors put her on life support and she was completely dependant on machines for survival for the next 48 hours.
Despite trying, the doctors could not save her right leg and toes. They did multiple skin grafts from her left thigh to her feet, however, to no avail. The doctors had further told her mother that her chances of survival were extremely low. Her mother, Tracey, 58, added: "I went straight to the hospital when I found out what had happened and when I arrived, I didn't recognise my own daughter because she was so swollen and blue".
The mother thought that they had taken her to the wrong window because she could barely recognise her daughter. When she saw her she fell to the floor and begged God for her survival. The doctors were regularly taking Lauren to the operation theatre to clean her wound up.
Lauren was discharged from the hospital on April 30th
She is currently living in a specialist facility with her mother, that caters to her wheelchair needs. Moreover, Lauren also suffered from severe speech impairment after the incident and had to leave her job.
References
GP's receptionist, 25, has leg and all her toes amputated after hot tub party with friends gave her deadly blood infection https://www.dailymail.co.uk/news/article-9578567/GPs-receptionist-25-leg-amputated-hot-tub-party-gave-deadly-blood-infection.html