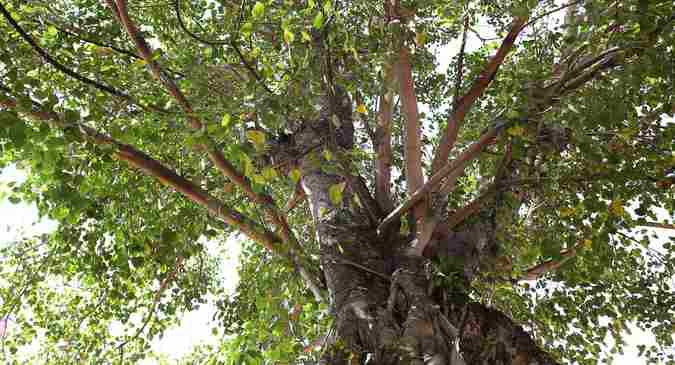 A young man, Pradeep Singh, takes refuge under a tree when he experiences shortness of breath and chest pain due to low oxygen levels
COVID19 pandemic changed a lot of things around us. With the rapidly mutating strains of COVID19, medical technology has not been able to match the speed, hence the chaos. Similarly, when a devastating strain of coronavirus engulfed India, the hospitals started to flood with symptomatic patients looking for treatment. Shortage of beds, staff, hospitals, resources, and the most important treatment modality: the oxygen cylinders, surfaced. Therefore, many COVID19 positive patients failed to receive the treatment they needed. This gave birth to the idea of utilising trees as an oxygen source.
Among these patients was a young man, Pradeep Singh, from Panipat, Haryana. He developed symptoms of COVID19 including chest pain and shortness of breath. Although he required an oxygen cylinder due to low O2 saturation, he was unable to secure one. طريقة لعب البلاك جاك After a thorough search, he was left with no option. However, despite the scarcity of resources, he didn't give up.
Then how did he rescue himself?
Nature came to his rescue!!
The childhood science lesson: 'Trees take in carbon dioxide and give out oxygen,' came in handy when the oxygen cylinders were outnumbered by the COVID positive patients. Pradeep started sitting under the tree for 8 to 10 hours each day. Within 3 days, his O2 saturation returned to normal values. However, he continued sitting under the tree for the next few days to complete 10 days in total.
In 10 days, the patient was asymptomatic and had recovered substantially. رهانات المباريات His chest pain gradually disappeared, and he no longer had difficulty in breathing.
Similarly, there have been reports from India, where the authorities asked the patients who could not find an oxygen cylinder to sit under the Peepal tree. In Hinduism, Peepal tree is the most sacred tree.
In Uttar Pradesh's Shahjahanpur district, Covid19 patients were forced to sit under a Peepal tree as they believed that the Peepal tree gives out maximum oxygen. شرح البوكر This is true to some extent. Although all trees give out oxygen during the day, some trees including, Peepal and Neem trees, have the capability of releasing oxygen during the night too. Probably, this ability made them popular as an oxygen source.
According to a King George's Medical University (KGMU) doctor:
"It is probably fresh air that is helping people breathe easy."
In other words, the impact is more psychological!