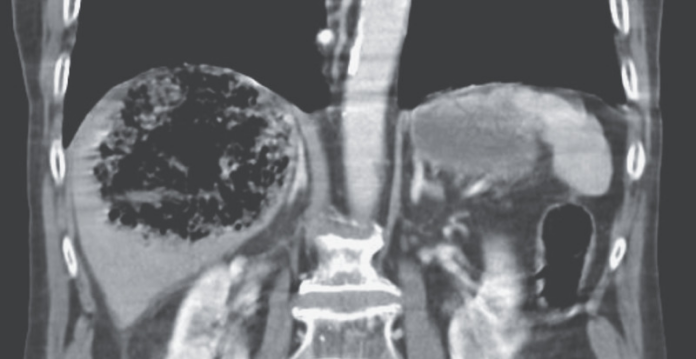 Emphysematous hepatitis in 82-year-old with pancreatitis and biliary strictures
This article describes the case of an 82-year-old man with a history of pancreatitis and biliary strictures, diagnosed with emphysematous hepatitis. The patient presented to the emergency department with a 1-day history of fever and confusion. On examination, the patient's heart beat was 150 beats per minute and blood pressure 90/50 mm Hg. Physical examination further showed that the patient was disoriented. Whereas abdominal examination was consistent with tenderness in the right upper quadrant.
Emphysematous hepatitis is a rare condition characterised with the replacement of hepatic parenchyma with gas. This leads to acute liver failure. It is commonly seen in patients with diabetes mellitus, recent history of abdominal surgery or liver disease. In this case, the patient had a recognisable risk factors.
Investigations and treatment
Doctors further advised laboratory tests which showed an increased white-cell count of 14,900 per cubic millimetre, increased aspartate aminotransferase level of 1380 units per litre, and increased alanine aminotransferase level of 1121 units per litre. A CT scan of the abdomen with intravenous administration of contrast material was also done. Findings showed a large area of gas in the right hepatic lobe, consistent with the diagnosis of emphysematous hepatitis. The patient was started on treatment with broad spectrum antibiotics.
The patient was later shifted to the intensive care unit (ICU), and a percutaneous hepatic drain was inserted. Blood and fluid cultures were positive for extended-spectrum beta-lactamase Klebsiella pneumoniae. However, despite continuous care with early broad-spectrum antimicrobial therapy and supportive care, he died on the 8th day of hospitalisation. Early recognition with aggressive management is important to improve patient outcomes. Despite aggressive management, the condition is often seen progressing to a fatal outcome in the first days of admission. Therefore, aggressive therapeutic measures are encouraged to control the infection.
Source: NEJM