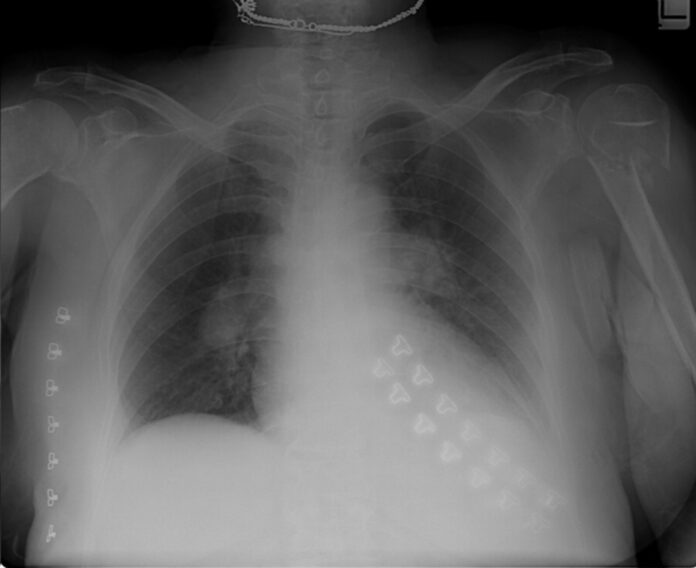 Bilateral pulmonary emboli in 79-year-old with dyspnoea
This article describes the case of a 79-year-old female patient who presented with a complaint of a 1-week history of dyspnoea, which aggravated on exertion. On examination the patient's oxygen saturation was 87%, blood pressure 120/75 with signs of distended neck veins. Auscultation showed normal breath and heart sounds. Other findings included an enlarged liver, with no leg oedema, swelling or tenderness.
Laboratory tests were within normal range with normal troponin level. The patient told the doctors that one month before admission, she fell and broke her left humerus while cleaning her house. A chest roentgenogram was also performed which revealed a fracture in the surgical head of the left humerus and bilateral enlargement of the pulmonary arteries. To confirm the diagnosis, a chest CT angiography was also performed, findings of which were consistent with bilateral pulmonary emboli. Doctors prescribed the patient with anticoagulant treatment for 6 months.
Studies have shown that almost 1% to 4% of all cases of DVT involve the upper extremity
A fractured limb can lead to venous thromboembolism, whereas the bilateral hillar enlargement can be because of an an enlargement of the pulmonary arteries. This is a sign of pulmonary hypertension (Palla's sign). The findings with the presence of lung oligemia (Westmark's sign). Westmark's sign is defined as a sign of pulmonary embolus on the chest radiograph. It is further delineated as the presence of oligemia on the chest x-ray, located distally to the large vessel. In addition, impaired vascularisation of the lung shows with a focal area of increased translucency. The findings were consistent with the diagnosis of bilateral pulmonary emboli.
Studies have shown that almost 1% to 4% of all cases of DVT involve the upper extremity. Whereas 13% to 14% of these cases are often complicated because of the presence of a pulmonary embolism. The incidence is, however, much lower than that of the lower extremity which ranges between 16% and 29%. DVT in the upper extremity is either idiopathic or caused because of a malignancy or is central venous catheter related. Upper extremity fracture is also a risk factor but rare.
Source: BMJ