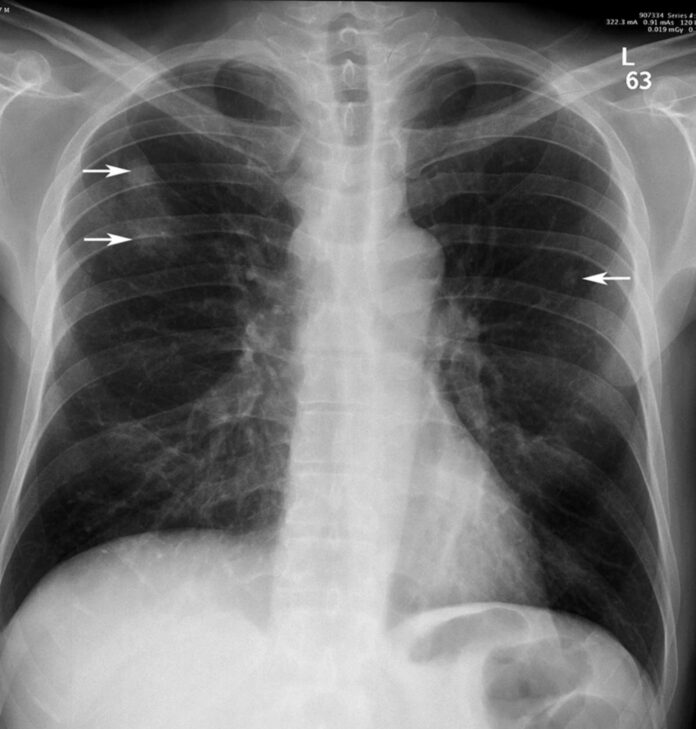 Pulmonary aspergillosis in 58-year-old patient with history of AIDS and lymphoma
This article described the case of a 58-year-old male patient with a history of AIDS and recurrent non-Hodgkin's lymphoma diagnosed with invasive pulmonary aspergillosis. He presented with complaints of a 1-week history of fever and a productive cough with chest pain that developed 2 weeks after chemotherapy. The patient was currently on antiretroviral triple therapy and antibiotics but was not responsive to treatment.
Physical examination showed tachypnoea and bilateral crepitations. Doctors advised a chest x-ray which showed hazy infiltrates in the middle lobe with scattered, small nodular lesions. The patient was referred for a bronchoscopy which showed discrete, white coloured ulcerations of the airways. The transbronchial biopsy showed well-defined septate hyphae, further seen branching at an acute angle. Studies have shown that the overall prognosis in patients with invasive pulmonary aspergillosis (IPA) is poor.
However, in this case, the patient showed significant improvement with treatment. Doctors prescribed the patient with intravenous liposomal amphotericin B and voriconazole for 6 weeks. The patient showed full recovery from the symptoms and radiological findings. He was later started on chemotherapy for lymphoma disease in association with anti-fungal prophylaxis with oral posaconazole.
Clinicians are on a constant look out for new strategies and remedies for the poor outcome of IPA
Currently there are no optimal therapy strategies for the disease. However, varconazole monotherapy is given preference over polyene as a better choice of treatment. Despite the preference, it has an unacceptably high rate of mortality. This combination therapy has not been conclusively established, despite its efficacy and support from limited clinical reports.
Potential advantages of anti-fungal therapy include lowered dosing of toxic drugs, rapid anti-fungal effect, wider potency and spectrum of drug activity. The combination of drugs was not used previously because of the fear of antagonism. Although there is not enough clinical evidence to support this concern. Animal model studies have tested the efficacy and safety of this combination for the treatment of aspergillosis.
Source: BMJ