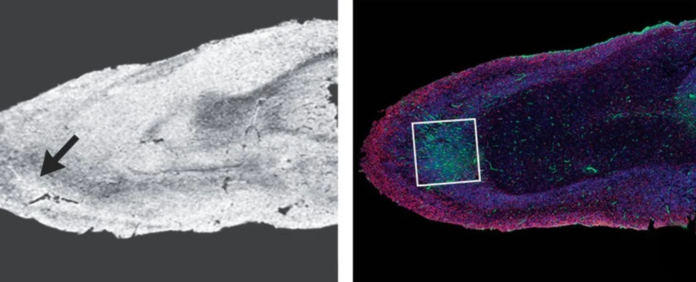 Widespread damage seen in brain tissues as a result of COVID-19
It was established early during the pandemic that COVID-19 is not only a respiratory illness, however, also causes gastrointestinal disorders, blood clotting disorders and heart damage. Scientists now have a closer insight on how damaging the infection is on brain tissues. In-depth autopsies of COVID-19 patients reveal widespread inflammation and damage in brain tissues. This explains the neurological symptoms including weakness, dizziness, memory loss, headaches, hallucinations, seizures and strokes. 50% of patients infected with COVID-19 present with neurological symptoms.
"We were completely surprised. Originally, we expected to see damage that is caused by a lack of oxygen. Instead, we saw multifocal areas of damage that is usually associated with strokes and neuroinflammatory diseases." said physician and clinical director at National Institute of Health (NIH), Avindra Nath.
What do studies say?
NIH researchers examined the brains of 19 COVID-19 deceased patients aged between 5 to 73 years. Several of the patients also had other risk factors, including comorbidities, diabetes and cardiovascular disease. The team identified brain abnormalities in 10 patients using powerful MRI microscopy. Microscopic examination further revealed bright spots with leaked fibrinogen. In addition, a number of patients' brain scans showed the clots surrounded with T cells and the brain's specialised immune cells and microglia. The findings led to the conclusion that the patients may have experienced bleeding in the brain.
Dr. Avindra Nath of the National Institute of Neurological Disorders and Stroke further elaborated:
The neurological symptoms are not only restricted to patients with previous conditions or in those who have been previously ill. Benedict Michael, neurologist from University of Liverpool stated:
In a number of cases the patients also suffered from delusions and developed psychosis. Studies are also suggestive of the fact that the damage may not be because of the virus but as a result of the body's inflammatory response. However, because of limited clinical evidence, a conclusion cannot be drawn just yet.
References
Microvascular Injury in the Brains of Patients with Covid-19 https://www.nejm.org/doi/10.1056/NEJMc2033369