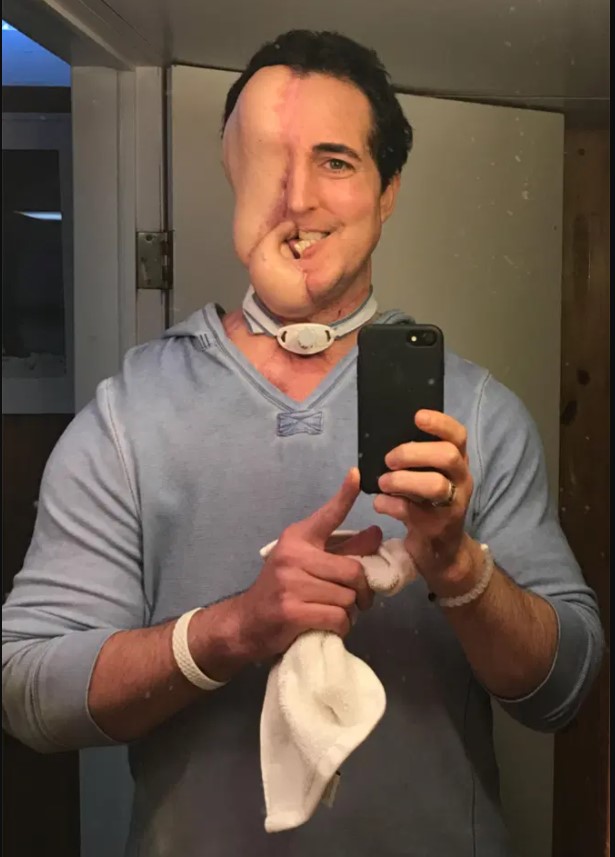 An extremely rare soft tissue cancer, synovial sarcoma, deformed the facial features of a young golfer.
Tim, from Michigan, USA, experienced severe jaw pain. After a series of investigations including magnetic resonance imaging (MRI), Tim got a diagnosis of synovial sarcoma. Initially, MRI had shown an egg-sized tumour. He refused surgical intervention as he feared facial disfigurement.
For the following 18 months, he sought non-surgical alternatives. Unfortunately, the synovial sarcoma is resistant to chemotherapy too. Consequently, the tumor grew. It got huge overtime. Therefore, he underwent surgery which excised the malignant mass. However, attempts to reconstruct the face were unfruitful.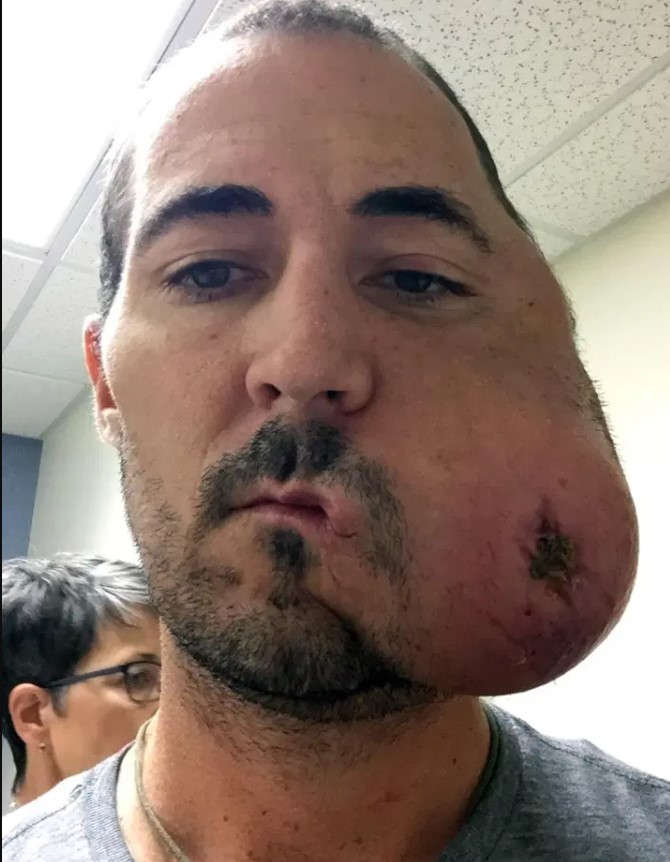 The patient said:
"At the end of May 2015 the tumour doubled in size and I had to have a tracheotomy fitted to enable me to breathe and a feeding tube so I could eat because the tumour had invaded the space in my mouth."
He added:
"Heavy doses of radiation caused the tumour to start dying and shrink and parts started to fall off; eventually I got my mouth back and I could eat very thin pieces of food. After the tumour shrank and the radiation treatment was over; I had to wait a few weeks before they could remove the remaining mass."
He added:
"As well as removing part of my face and bone structure, they had removed most of the muscle in my back, they had taken a rib, and they took part of my scapula and part of my shoulder too.'
After a year with exposed flesh, Tim sought help from Dr Kongkrit Chaiyaste. He used skin from his leg and forearm to reconstruct the left side of the patient's face.
"After the operation to remove the tumour I was heartbroken, I didn't realise that half of my face would be taken away and it wasn't until I went to Dr Chaiyasate that I start to feel real hope again. I was covered in scars from previous surgeries which limited my options for reconstruction but we went ahead and the outcome has been incredible. He reconstructed my face using skin and muscle from my left leg, left forearm, and a flap from my forehead and skin grafts were used to help the healing process. I currently can't drink the liquid, eat through my mouth, or pronounce certain words, however, my quality of life has improved massively."
Tim's surgery took 30 hours for the extraction of the mass and then reconstruction attempt. He remained in the hospital for almost seven weeks after the surgery.

"I've had over 20 surgeries to date,"  he revealed.
Dr Chaiyasate will continue with the reconstruction of his face. Subsequently, he, hopefully, will be able to eat, drink, and improve his speech too.