A young man falls onto a damaged fence while he was walking. A loose end of the wire of the fence penetrates the eye!
A 19-year-old man presented to the emergency department with a one-hour history of trauma to the right upper eyelid. The patient, while walking fell onto a damaged fence which had a loose end of a wire.
Past history revealed injury to the same eyelid from a coat hanger 2 years earlier.
In the ER, the patient was unable to open the eye himself. The wire penetrated, passing under the right eyelid, then through the centre of the upper eyelid, coming out through the external surface. It penetrated the eyelid's full thickness in the direction opposite to the normal. Around 15 mm of the wire was superficial to the lid margin. The cut end (which was cut by the rescue team to free the patient) was approximately 90 mm. The cut end was wired and taped to the cheek for security.
The doctors infiltrated 1% Lignocaine, a local anaesthetic, into the upper eyelid, opened the eye manually, averted the lid, and passed out the wire through the defect. There were no abnormalities in the anterior or posterior segments of the eye. Moreover, the intraocular pressure was also normal.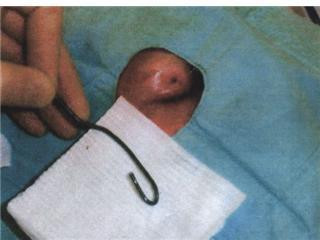 The patient had no complications after the procedure. Post removal, the acuity increased to 6/9 and there was no intraocular penetration. He had recovered well.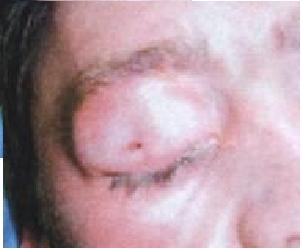 One week later, after completing a course of antibiotics, the examination was unremarkable with equal acuity bilaterally.
Reference:
Wasfi E, Kendrick B, Yasen T, Varma P, Abd-Elsayed AA. Penetrating eyelid injury: a case report and review of literature. Head Face Med. 2009;5:2. Published 2009 Jan 14. DOI:10.1186/1746-160X-5-2