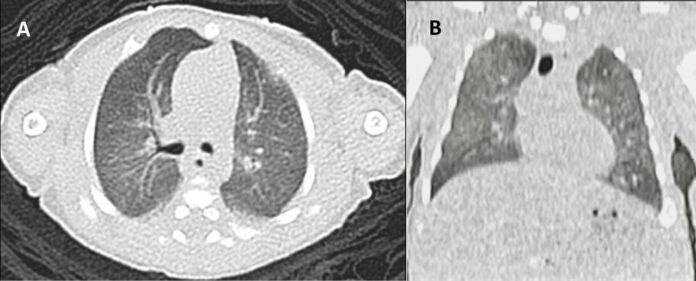 Respiratory distress syndrome
Cases of COVID-19 are less prevalent and milder in young children. Despite that, it is important for parents to understand that children can contract the virus and transmit it to others. Similarly, in very rare cases, the virus can cause children to become very ill and even lead to death. This article reports a case of COVID-19 in a 29-week preterm infant. This case is the youngest documented child with SARS-CoV-2 infection.
A 39-year-old primagravida presented to the hospital with a planned premature. The patient had a history of advanced adenocarcinoma and her tumour was resected at 29 weeks of gestation. She was at a risk of impending rupture of the tumour. Doctors started her on antenatal steroids for fetal pulmonary maturation. However, in a turn of events, the mother developed fever and cough on her fourth day at the hospital. Further investigations were also significant for progressive lymphopaenia. Chest radiograph showed signs of pneumonia. Doctors tested her for SARS-CoV-2 gene targets with PCR (RT-PCR). The test results came back positive and she was diagnosed with COVID-19 infection. In light of the situation, her elective procedure was decided to be postponed.
A few days into the diagnosis, the mother developed premature contractions which led to premature labour.
The mother was wearing a surgical mask throughout the delivery, whereas the healthcare staff wore personal protective equipment throughout as a precaution. The infant was born at 29 weeks and 5 days gestation with a birth rate of 1100 g. Doctors transferred the child directly to the neonatal team without any skin-to-skin contact with the mother. The neonate was stabilised in a separate negative pressure room. The entire process was uneventful. After stabilisation, the infant was referred to the neonatal intensive care unit, kept under strict airborne and contact precautions in a closed incubator in a room with negative pressure.
The particular unit had no other cases of COVID-19. There were no visitors allowed and all healthcare workers attending the child were asymptomatic for the following two weeks after delivery. Despite being under continuous positive airway pressure ventilation, he developed worsening respiratory distress. The infant was ventilated for 14 days and weaned off on the 50th day. On his 49th day at the hospital, a high resolution CT was performed which showed diffuse ground glass opacities. Based on the findings, the doctor diagnosed the patient with respiratory distress syndrome with no evidence of interstitial lung disease. He was discharged on the 54th day.
References
COVID-19 in a premature infant https://casereports.bmj.com/content/14/5/e243783