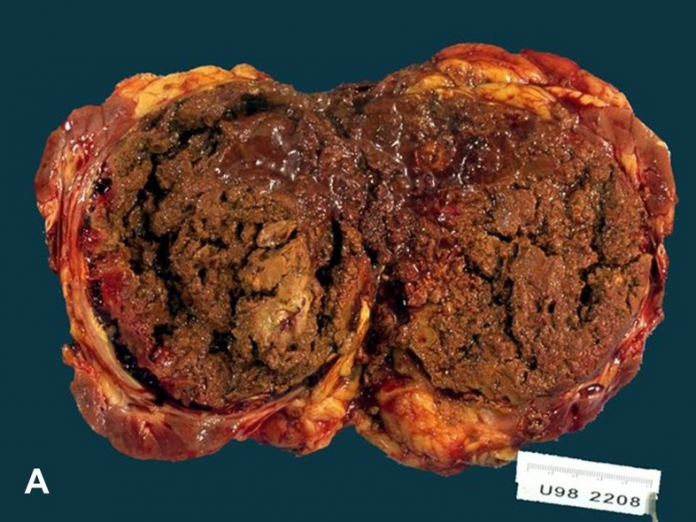 Isolated splenic metastases of renal cell carcinoma
A 48-year-old male patient presented to the hospital with a 4-month history of intermittent pain in the left flank. The patient also complained of nausea with the pain. Doctors diagnosed the patient with isolated splenic metastases from renal carcinoma.
Physical examination showed mild discomfort in the upper abdomen. The rest of the examination was normal. Laboratory findings were within normal limits. The patient had a history of renal carcinoma, diagnosed 11 years ago for which the patient underwent left nephrectomy. Findings showed that the renal cell carcinoma had infiltrated beyond the renal capsule, however, was contained within the Gerota's fascia. Pathological evaluation showed a subtype of clear cell renal cell carcinoma. The patient's history was also notable for B-cell non-Hodgkin lymphoma which was which was treated surgically and with radiotherapy.
The patient was advised computed tomography (CT) with intravenous contrast for further evaluation.
CT was remarkable, demonstrating two heterogenous hypovascular splenic masses with necrotic areas in the posteroinferior portion. The lesion was seen extending from the splenic capsule to the left diaphragm. The mass measured 4.5 cm and 5.8 cm.
Treatment included splenectomy. Pathology showed that the spleen had two yellowish lesions that measured 6 cm. In addition to this, focal involvement of the diaphragm, angiolymphatic invasion and tumoural necrosis were also observed. The patient showed a complete resolution of symptoms 3 months after surgery and was in good overall health.
References
Isolated Splenic Metastases from Renal Cell Carcinoma 11 Years after Surgery https://www.ncbi.nlm.nih.gov/pmc/articles/PMC6778928/