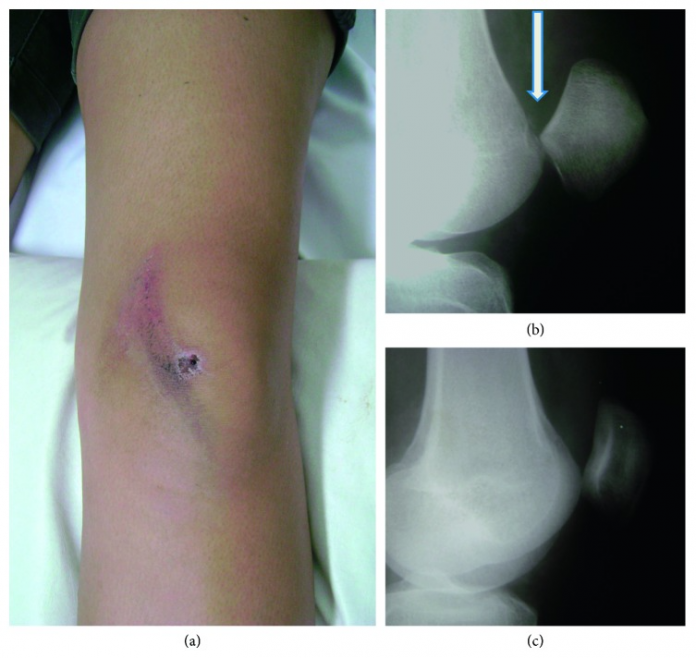 Superior dislocation of the patella (SDP) is an often misdiagnosed condition, confused with rupture of the patellar tendon based on radiographic findings.
Therefore, to differentiate between the two, a careful history and clinical examination are important. Treatment includes immediate close reduction. Whereas in case of a ruptured tendon surgical treatment is required.
This case is of the youngest patient with a known case of SDP.
This article describes the case of a 19-year-old female patient who presented to the emergency with severe pain and an anteromedial skin bruise on her left knee. In addition, her knee locked in full extension, diagnosed with superior dislocation of the patella. The woman's history revealed that she had fallen from a bicycle and hit her knee against a street guide.
Radiographic examination showed a superior displacement of the patella. In addition, the inferior articular surface engaged the proximal articular surface of the trochlea. Doctors administered the patient 2% lidocaine hydrochloride intra-articularly for pain. The patellofemoral joint was reduced in relation to the femur. A plain radiograph was used for confirmation.
The patient's knee was immobilised for a week to ensure comfort. 10 days after the procedure, the patient was pain free with no limitations in movement. In addition, there were no symptoms either.
Superior dislocation of the patella
Superior dislocation of the patella is a rare condition that is commonly associated with degenerative changes. Similarly, it also presents secondary to the presence of osteophytes. And the peak incidence is observed during the sixth decade of life. The distal articular edge of the patella locks the knee in full extension by engaging in the proximal articular edge of the trochlea.
Although the condition is rare, urgent treatment is required. Patients with this condition generally present to the emergency with complaints of pain and restricted movement.
References
Superior Dislocation of the Patella in a Young Patient without Osteophytes: A Case Report with Discussion about Differential Diagnosis https://www.ncbi.nlm.nih.gov/pmc/articles/PMC6458944/