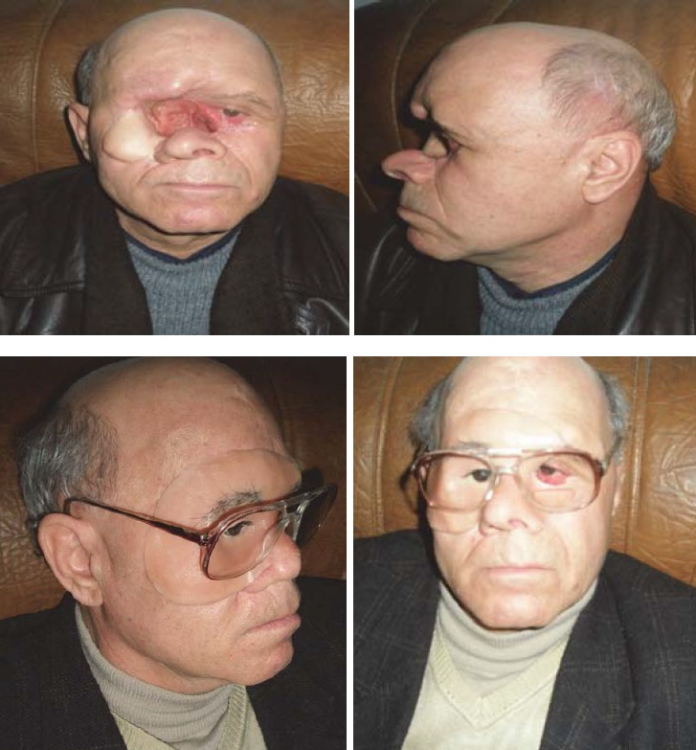 Case presentation
This article highlights the case of a 68-year-old patient who required reconstruction of the nasal pyramid. The patient had a 10 years history of right maxillary cancer invading the nasal pyramid, right orbit and eye. He underwent numerous surgeries and was advised prosthetic reconstruction of the affected area. The area included the half-upper right hemiface and orbit of the eye. However, the patient required silicone reconstruction of almost 2/3 of his face after the postoperative results were unfavorable.
The nasal pyramid is an important anatomic element of the centre of the face. It plays an aesthetic role and protects the brain. Similarly, in case of traumatic accidents and is a part of the upper respiratory tract. It plays an important role with breathing, smelling, tasting and protects the lower respiratory tract by cleaning, moistening and warming the inspired air.
Reconstruction surgery
Individuals, depending on their sex and age are generally more concerned with the aesthetic appearance and not with the functional aspect. Therefore, there is no specific technique to achieve reconstruction of the nasal pyramid. Moreover, there are a multitude of techniques that have been developed over the years. The reconstructions are primarily performed after the anatomic appearance of the patient's nose.
The surgeon chooses the most suitable method for treatment, depending on his training and regardless of the patient's preferences. The surgeon also explains the procedure with the help of photographs and measurements or endoscopic examination, to conclude an option that is best in terms of aesthetics and functional results.
In addition, the psychological implications and appearance of the patient are also very important. The patients needs to be informed of the procedure and must give his signature that he has understood the procedure and agrees to the method that would be applied by the doctor. A common disadvantage is that it may not always be possible to achieve an aesthetic outcome desired by the patient. Moreover, the surgery results may be seen after 6 months to 1 year. Additionally, complications may occur because of a lack of collaboration between the doctor and patient. For example, a failure of the patient to follow post-surgery guidelines for care and follow-up.
References
Reconstructive surgery of the nasal pyramid https://www.ncbi.nlm.nih.gov/pmc/articles/PMC6880216/