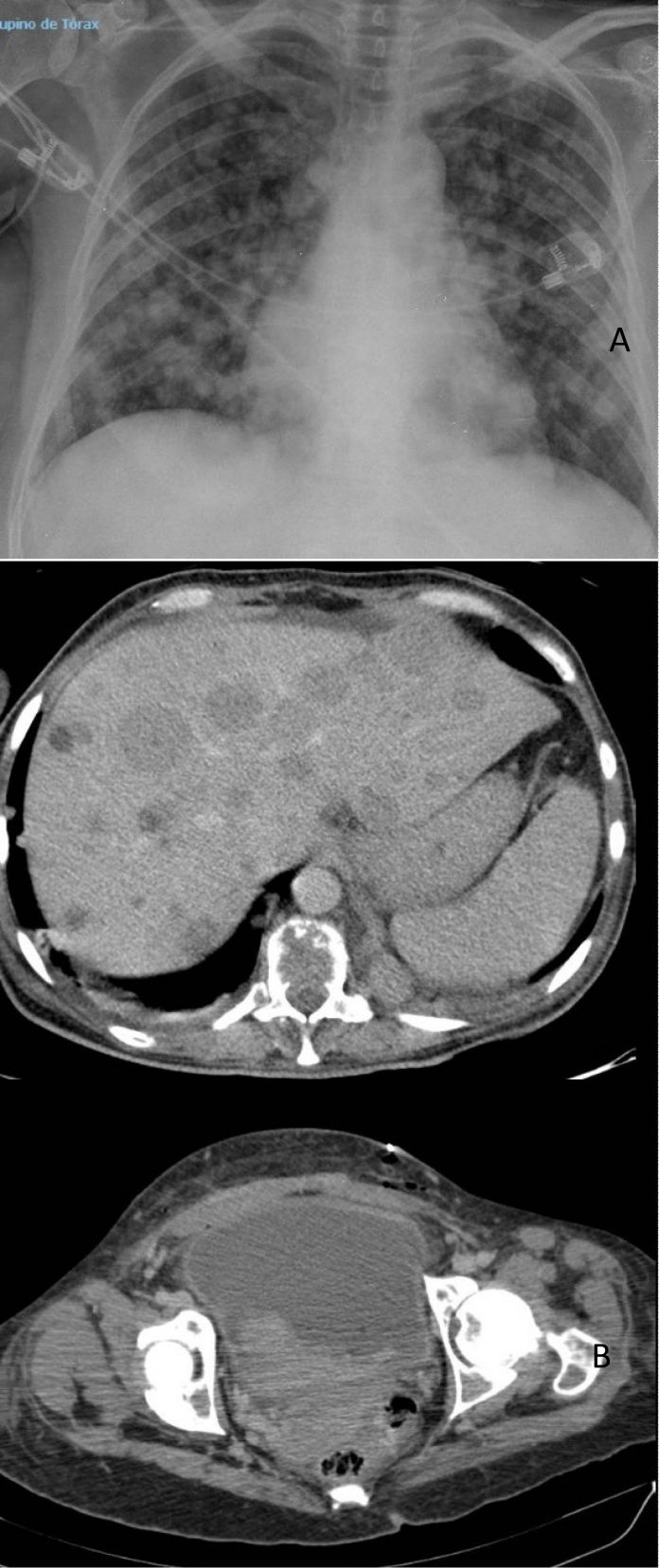 Cancer diagnosed in a 39-year-old woman right after delivering a healthy baby.
A 39-year-old female presented after delivering her first baby with complaints of 10 kg weight loss during the last months of pregnancy and an episode of urinary tract infection with Ecoli grown in the culture one month earlier.
She was admitted for labour when she had presented with contractions. At that time, the patient was in discomfort, was dyspneic and tachycardic. After a few hours of presentation, due to fetal distress, the patient underwent urgent cesarean. After urinary catheterization, gross hematuria was noticed.
After the emergency C-section, the baby was healthy, with an APGAR score of 7/10, but the mother was still dyspneic. A chest radiograph showed cotton-like infiltrates. A computed tomography scan was performed, which showed an excrescence lesion in the bladder suggestive of bladder cancer. Metastatic lesions were seen in the axial skeleton, pulmonary parenchyma, liver, spleen, left adrenal, presacral region, peritoneum, and the retroperitoneal region.
A transurethral resection (TUR) was planned with tissue sampling for histopathological evaluation for etiologic diagnosis.
At TUR, a brown excrescence bladder lesion was appreciated. Spindle cell tumour proliferation was seen under the microscope with areas of necrosis tested positive for S-100, Melan-A and HMB-45.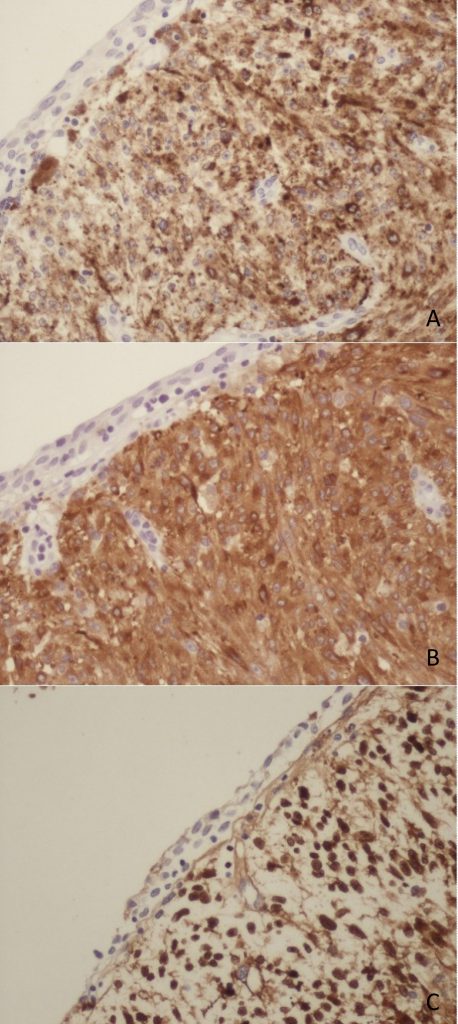 The patient was referred to the dermatology department, although there was no evidence of malignant skin lesions.
The BRAF study was negative. The extension study, along with a skull CT scan, revealed clivus lesions at multiple sites.
The oncologists decided to start the patient on chemotherapy with Temozolomide.
With the consent of the patient, the treatment was started. After the initiation of chemotherapy, the patient's condition deteriorated further. She underwent respiratory failure and right ventricular failure. Due to the progression of the disease and the complications, she was admitted to the hospital. Despite management, the patient didn't improve. She succumbed to death one and a half months after the diagnosis.
Bladder melanoma is notorious for its poor prognosis, with life expectancy less than 3 years despite adequate treatment. In pregnant patients, as seen in this case, the mortality rate is more. There is some evidence to believe that pregnancy hikes up the risk of mortality of melanoma to 56%.
Are there any risks of malignancy in the born child?
As seen in this case, the patient had melanoma during pregnancy, which definitely adds to the risk of malignancy in the child. In some cases, although quite rare, the maternal-fetal transmission of cancerous cells has been seen. Moreover, malignant melanoma has the highest maternal-fetal transmission rate.
The baby born to the mother in the case above was healthy at birth with no evidence of malignancy and had been growing according to the standard parameters.
Reference:
Rubio GJM, Gomez GE, Valero RJ, Salguero SJ, Pineda RB, et al. (2020) Primary Melanoma of the Bladder at Puerperium: Case Report. Int Arch Urol Complic 6:073. doi.org/10.23937/2469-5742/1510073