In4Med XII is born out of the students' desire to promote our personal and professional growth. For this reason, we present an excellent scientific program formed by three different panels, outstanding keynotes, and a remarkable debate, whose protagonists are national and international speakers.
Scientific Competitions
Beyond that, it hosts three different scientific competitions, whose finals take place at the main stage. Whilst "Post N' Speak" is a great opportunity for the participants to explore their investigation skills,"Scrub Up" tests their clinical reasoning and offers a realistic scenario in a simulation environment, and "Doctor, Crack My Case!", a competition that allows our attendees to solve a set of clinical cases in a more enthusiastic, dynamic and educational way!
Courses & Workshops
This educational event also offers a range of more than 50 extraordinary workshops and pre-courses. They enable the medical students to have close contact with medical concepts and interventions that they find difficulty with in classroom.
This in-person event is going to take place in Convento de São Francisco, Coimbra on 16 – 19 February 2023. Find more about In4Med Congress XI!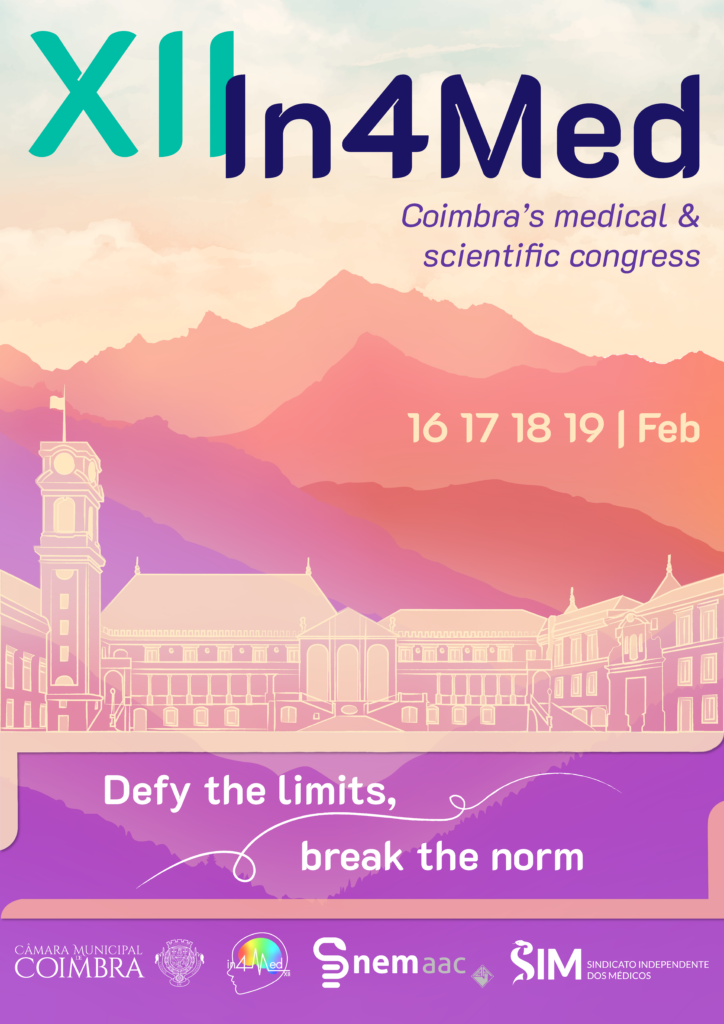 Opening Ceremony & Gala Dinner
In4Med XII isn't just an incredible scientific and medical programme, it also provides a stunning social programme for our participants and speakers. At the Opening Ceremony and Gala Dinner, our attendees experience the glamour and sophistication that our congress has to offer. This is followed by our Sunset, hosted in a casual environment, providing both participants and speakers a moment to relax.
In focus
In4Med XII is much more than a medical congress, it also has a humanistic vision. Our goal is to awaken the mind of our participants to their surroundings, to novelty, to science and technology currently available, but also to the people, to humanity both in general and individually. This event mainly focuses on "Broadening the spectrum"- Neurodesenvolvimento , Discovering the senses, touching lives" – Cirurgia dos sentidos , and "Sexplanation"- Sexualidade.
With 4 days of promised excellence, In4Med intends to provide our participants with some pieces that can hopefully think out of the box, leading them to both intellectual and emotional growth.
This is how the motto "Defy the limits, break the norm!" came about.