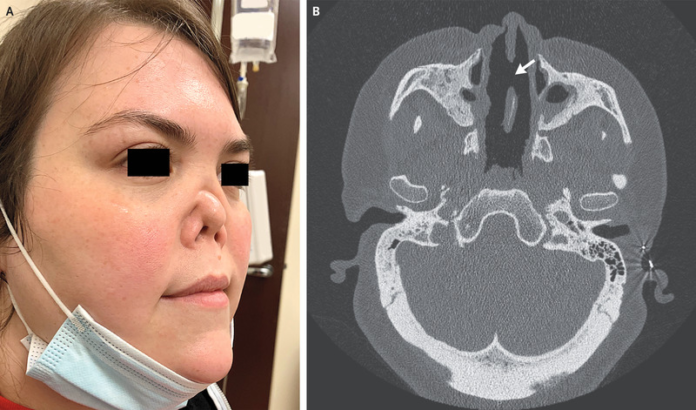 Rare autoimmune disorder with 7-year history of rhinorrhea, bloody nasal crusting and nasal deformity.
This article describes the case of a 34-year-old female patient who presented to the plastic surgery clinic with symptoms of rhinorrhea, bloody nasal crusting and nasal deformity. The symptoms had progressed over the course of 7 years, in addition to chronic rhinosinusitis and nasal polyposis. Moreover, her past history did not reveal any use of intranasal cocaine.
On physical examination, a near-total loss of nasal bones and septal cartilage was evident. This had also caused a complete collapse of her nasal bridge associated with a retraction of the nasal tip. For evaluation, doctors advised a computed tomography of the sinuses. The findings showed a large nasal septal perforation and a near-complete opacification of the paranasal sinuses.
Doctors further advised a test to identify the circulating antibodies in the woman's blood. The test showed high levels of antibodies that target proteinase 3 (PR3), a type of autoantibody. The antibodies primarily target healthy human cells, which triggers inflammation in the blood vessels, causing organ damage to the respiratory tract, lungs and kidneys. While the autoimmune disorder may involve any other organs, it more commonly affects the aforementioned organs.
Based on the findings, doctors diagnosed the patient with granulomatosis with polyangiitis.
Granulomatosis with polyangiitis is a rare autoimmune disorder which causes extravascular necrotising granulomatous inflammation and necrotising vasculitis which affects the upper and lower respiratory tract and kidneys. The disorder may present with a variety of symptoms including recurrent rhinosinusitis and bloody nasal crusting which may lead to holes in the septum and destruction of the sinonasal cavities.
In this case, it caused the woman's nose to collapse and sink into her face. The condition can either slowly emerge over months or set in acutely. Similarly, the symptoms may vary from person to person. For example, if left untreated, in some cases it may lead to cranial nerve damage, vision loss, hearing loss and kidney failure.
Doctors treated the patient with rituximab, prednisone and low-dose cyclophosphamide. At 6 months follow-up, her bloody nasal discharge and crusting had resolved. However, the nasal deformity was still unchanged. The patient was continued on maintenance therapy with rituximab.
References
Sunken Nose https://www.nejm.org/doi/full/10.1056/NEJMicm2031387