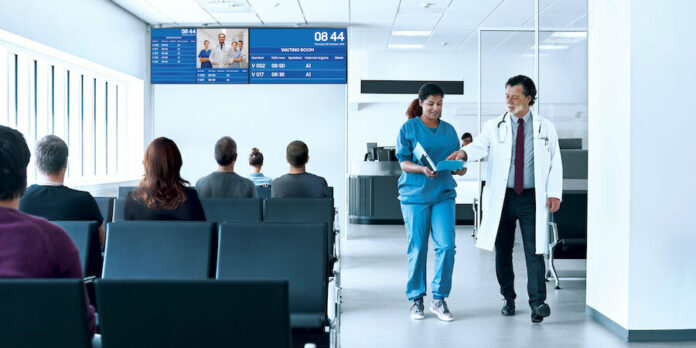 All healthcare set-ups claim that their patient care is improving, however, inefficient technology and processes can make it difficult to make any prominent changes. Moreover, poor coordination and communication between clinicians and patients can be very costly. According to the estimates, it accounts for 60 to 80% of medical errors and burnout in more than 35% of physicians. All of this is due to overwhelming administrative tasks that give the clinicians less time for patient care.
Digital signage can streamline the hospital workflow and combat this problem. It will support collaboration, making sure that the team members have real-time information, providing efficient and accurate communications throughout the facility. Furthermore, with proper signage, the patients are more engaged, and the data is readily accessible.
Strategic digital signage will give clinicians the right tools to offer patient-centred care. Digital signage can inform, consent, and even comfort the hospital staff and patients.
Digital Signage Provides Optimized Healthcare
Easier wayfinding will benefit everyone, whether it is the guests, the patients, the visiting doctor, nurse, or anyone. They will not spend most of their time wandering around and can spend more time with their patients. The digital signage maps can also provide critical information, for example, updated COVID19 precautions.
Samsung displays can be installed easily in hospitals and do not even take a lot of space. Moreover, the configuration settings are based on the hospital's preferences. It reduces stress and increases the efficiency of a hospital.
Although patient diagnosis and treatment are a collaborative effort, team members are not always in one place. Digital signage can give remote access to patient information and members who are working in other parts of the hospital or across town. The interactive display whiteboard lets everyone annotate charts and diagrams.
Improved Clinical Efficiency
Digital signage can also improve clinical efficiency by their large, centralized displays in nurse stations. These dashboards help the nurses in getting accurate information about each patient, with real-time updates.
Human errors are also reduced when conventional displays are replaced with digital ones, improving patient safety and care. Digital solutions make the job easier and support the patients.