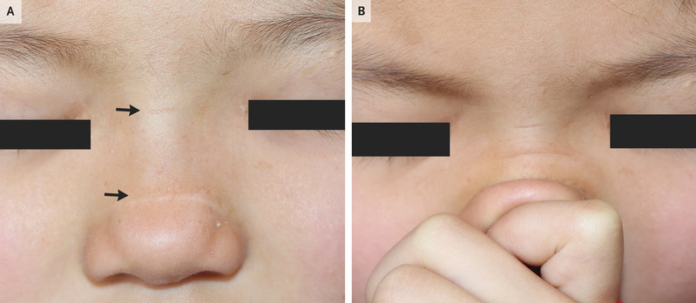 This case is of a 6-year-old who presented to the dermatology clinic with horizontal lines across her nose. They had developed during the last two weeks. The girl had a history of eczema. She also complained of perennial sneezing, nasal congestion, itching, and rhinorrhea. Furthermore, her symptoms worsened during the spring and fall seasons. العاب تربح مال  Based on investigation findings, doctors diagnosed the patient with transverse nasal creases.
Doctors did a physical examination and noted two transverse lines crossing the bridge of her nose. In addition, the patient was also seen rubbing her nose in an upward manner. مواقع لربح المال This impulsive behaviour is commonly known as an allergic salute. لعبة مباشر All these findings were significant for the diagnosis of allergic rhinitis.
Transversal Nasal Creases: Common Sign of Allergic Rhinitis
When children frequently push their nose upwards it forms transverse creases on the nose. It is a common sign of allergic rhinitis, especially in children and patients who suffer from atopic conditions.
Treatment and Follow Up
The doctors prescribed the girl nasal glucocorticoids and oral antihistamines for two weeks. Her symptoms relieved after the treatment. Moreover, she did a follow up after three months and her skin changes had resolved.
Conclusion
It is important that clinicians are aware of transverse nasal creases since they are commonly found in dermatological practices. However, they are not a very commonly reported entity, more likely to present as an embryological fault line. It is an isolated finding of the transverse nasal line. Furthermore, a transverse nasal crease should be differentiated from an allergic nasal crease, which is in the lines of a similar appearance. It is seen in atopic patients due to persistent and continuous upward manipulation of the nasal tip.
Source: NEJM