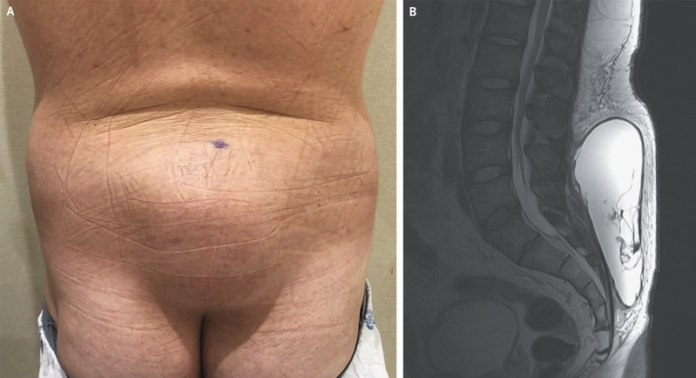 Case study: Morel-Lavallee lesion
Morel-Lavallee lesions occur due to trauma and closed degloving injuries that occur deep in the subcutaneous plane. Furthermore, it is due to the disruption of capillaries that results in effusion that contains hemolymph and necrotic fat. The gold standard diagnostic test is MRI and early diagnosis is essential since delays can lead to infection in the effusion. It can also cause extensive necrosis of the skin.
This article highlights the case of a healthy 36-year-old male patient who presented to the orthopaedic clinic with a mass on his lower back. Moreover, the mass was growing with time. The patient noticed the mass three weeks ago, after slipping from the stairs. He slid on his back when the incident happened. 
Doctors did a physical examination, which revealed a large, soft, and fluctuating mass. There was no overlying necrosis of the skin on palpation of the lower back. The doctors also did an MRI of the lumbosacral spine, which showed an encapsulated, subcutaneous, suprafascial lesion. The lesion started from the lower lumbar area to the buttocks. All the findings were significant for Morel–Lavallée lesion.
The lesion is caused by shearing of the subcutaneous tissues and the management varies from patient to patient. In this man's case, doctors performed surgical excision. The following decision was taken due to the risk of recurrence due to its encapsulation and chronicity. Moreover, doctors sent the excised cystic mass for histological examination. It showed a pseudocyst that was lined with myofibroblasts. The patient recovered three months post-surgery and recurrence of the mass was seen.
Conclusion
MRI is the choice of evaluation for Morel-Lavallee lesion. However, early diagnosis and immediate management of the lesion is essential. Surgical removal of the lesion is the choice of treatment due to the presence of a capsule. Moreover, it is preferred in contrast to conservative management.
Source: NEJM