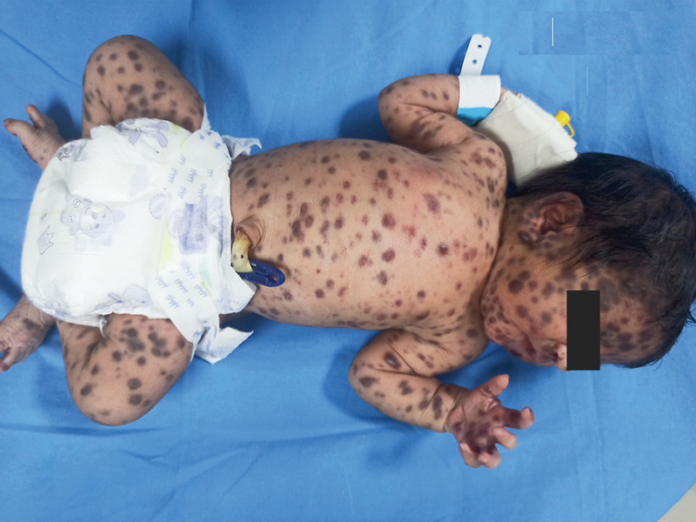 Case study
This article highlights the case of a female infant who was born with a 'blueberry muffin' rash. She was delivered at term by cesarian section. Doctors did a physical examination, which revealed multiple purple, papulonodular lesions. The lesions measured 5 to 10 mm in diameter and were seen on her trunk, arms, legs, palms, and soles. Moreover, they were also seen on the oral mucosa and palpebral conjunctiva. No lymphadenopathy and hepatosplenomegaly were seen. In addition, the doctors did a fundoscopy, which was also normal. The patient was diagnosed with congenital Langerhans-cell histiocytosis.
The initial lab tests, which were a complete blood count, a reticulocyte count, a peripheral blood smear, metabolic panel, and coagulation test showed no abnormality. Moreover, the doctors also did a chest radiograph and ultrasound of the head and abdomen. These were also normal, ruling out rubella and cytomegalovirus IgM or IgG in both the mother and infant. However, a biopsy specimen was taken from the right thigh that showed a dense infiltration of histocytes. In addition, grooved, kidney-shaped nuclei were also seen. the immunohistochemical staining of the specimen was negative for CD43 and myeloperoxidase. However, it was positive for S100+ CD1a+. These findings confirmed the diagnosis of skin limited congenital Langerhans-cell histiocytosis.
Resolution without Treatment
Since there was no extracutaneous involvement, the doctors expected the lesions to resolve without any treatment. Upon a six-week follow-up, the lesions had resolved. However, the infant continued to follow up in case of signs of recurrence.
Prognosis of Congenital Self-Healing Langerhans Cell Histiocytosis
Congenital self-healing Langerhans cell histiocytosis is a rare disorder seen at birth or during the newborn period. Infants with CSHLCH usually have spontaneous involuting skin lesions. However, compared to other forms of Langerhans cells histiocytosis in infants, for example, Letterer-Siwe disease, the prognosis for CSHLCH is good in general.
Source: NEJM