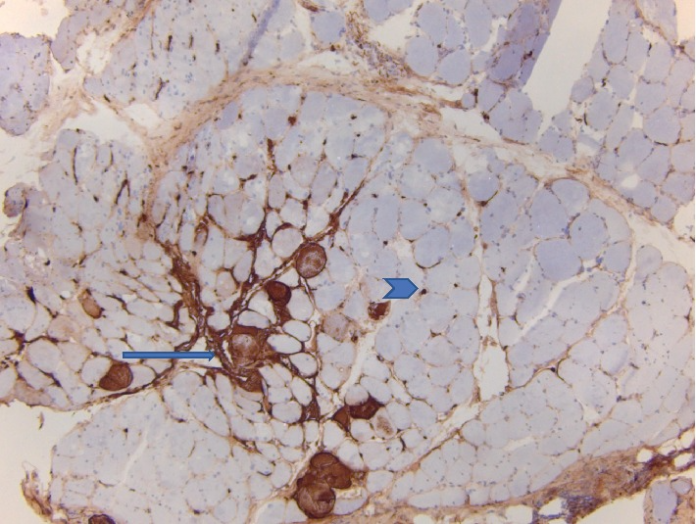 Rare case of localised upper limbs and truncal oedema secondary to dermatomyositis
This article describes the case of a 75-year-old male patient with a 10-day history of swelling, redness and pain in his right arm, diagnosed with dermatomyositis. The patient's past medical history revealed age-related macular degeneration hearing loss. Further questioning revealed a history of smoking. The patient was on no prescriptions medications, though, and was only taking daily multivitamins.
Physical examination showed signs of erythema with pitting oedema in the upper right extremity. Similarly, the skin of the right upper extremity was remarkable of a dark ecchymosis-like discolouration in the absence of oedema. Muscle exam showed 2/5 strength in the upper extremity, whereas 4/5 in the lower extremity. Initial laboratory tests showed no significant findings. However, there was an increase in creatinine kinase (CK) which remained elevated all the way through day 35.
Doctors advised a CT scan of the right arm with intravenous contrast showed nonspecific swelling of the soft tissue, however, in the absence of abscess in the right upper extremity.
The patient was diagnosed with right upper extremity cellulitis
The clinical and laboratory findings led to the diagnosis of dermatomyositis. Therefore, doctors started treatment with antibiotics, based on the diagnosis. Although the patient showed no improvement. And there was no evidence of deep vein thrombosis (DVT). On the 12th day, doctors performed an I&D of the right arm with placement of a wound VAC (vacuum-assisted closure). Serous-like fluid was obtained which was sent for culture. The cultures were negative. Additionally, there was significant drainage of 150-600 ml per day from the incision. On the 22nd day at the hospital, the patient developed a fever of 39°C with pitting oedema and erythema in both the upper extremities in addition to truncal oedema. Red papules were also evident in both arms, although, with no pustules. There was no oedema in the lower extremities.
He developed an acute kidney injury, also, on the 25th day. However, it resolved with intravenous fluids briefly after. He was given two units of packed red blood cells on the 26th day. Serological evaluations were unremarkable for C3, C4, RPR, HIV, Hepatitis B and C serologies, ANA and ANCA. On his 30th day at the hospital, doctors performed a muscle biopsy of the left shoulder. The patient was discharged on day 53 on prednisone 30 mg, p.o, b.i.d. His oedema and rash resolved after three days of treatment with corticosteroids. There was no pulmonary manifestation or evidence of malignancy.
References
Unusual Case of Localized Upper Limbs and Truncal Edema Associated with Fever, Anemia, and Acute Kidney Injury https://www.ncbi.nlm.nih.gov/pmc/articles/PMC6893257/