More than half a year has passed since the first case of COVID-19 emerged on the surface of the earth. The world has been chaotic since then. The ever-increasing number of deaths and the declining economy has reshaped the thought processes and forced the world to look into ways of getting over the chaos. Rapid and mass screening has become the need of the hour!

Up until now, the virus was detected by collecting a sample from the nasopharynx using a swab; the sample is then checked for the virus using the PCR technique. Many of us have been through it, which is not a pleasant test, if not painful.
Individuals who are afraid of the swab piercing through the nasal cavity can now sigh in relief!
The laser technology is to your rescue!
A major breakthrough in the testing of COVID-19 has been made by the Abu Dhabi-based QuantLase Imaging Lab, the medical-research arm of International Holdings Company (IHC). A laser-based, non-invasive test has been devised to give the results within a few seconds.
Not only is this laser test quicker, but it is also user-friendly and low-cost!
How does the test work?
The Head of the laboratory research team studying the change in the cell structure of the virus-infected blood, Pramod Kumar, said,
"The equipment that uses a CMOS detector will allow mass screening with results in seconds. Our laser-based DPI [Diffractive Phase Interferometry] technique, based on optical-phase modulation, can give a signature of infection within a few seconds. What's more, it is user-friendly, non-invasive, and low-cost. We believe it will be a game-changer in tackling the spread of the coronavirus."
Is the test sensitive enough to detect the virus early in the course?
Yes! The DPI technique that is utilized in this test enables the test to detect the virus as early as the blood gets infected, which means that the test can detect the carriers even before the symptoms appear. The accuracy of the test is 85-90%.
As Pramod Kumar explained:
"If we shine a laser on a blood cell and if there is an infection, the blood cell gets deformed or is changed in shape, size, density, morphology. There are various kinds of changes in a blood cell. And because of this change, the light gets scattered. Light gets rebounded and makes a particular pattern on the screen, which will give the signature of the defect of the blood cell due to infection. This is the central idea behind it."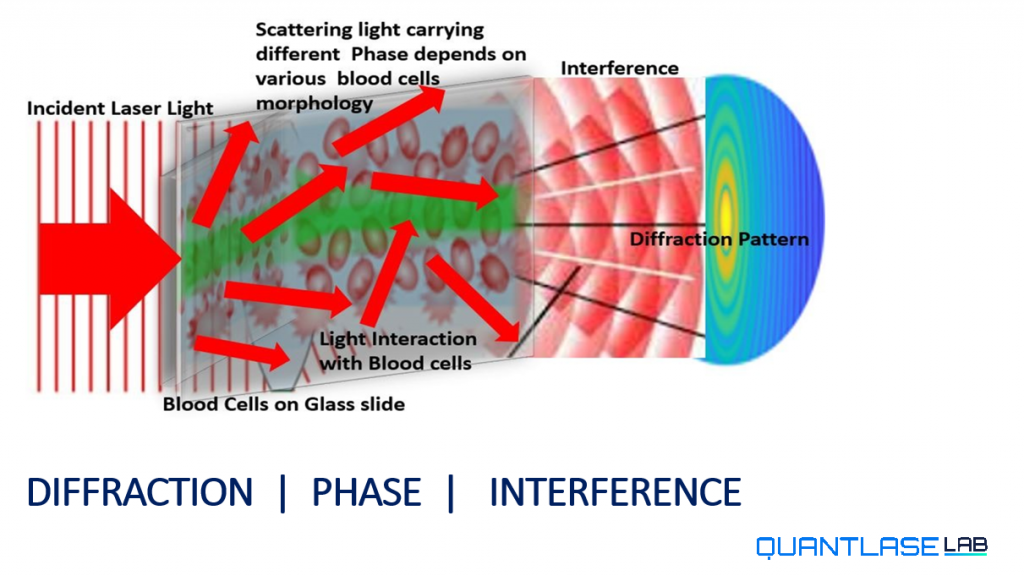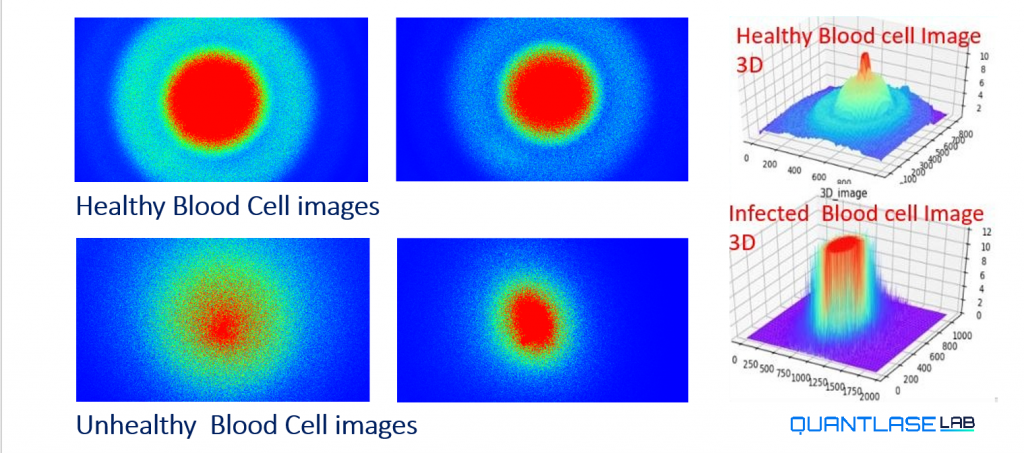 To further enhance the laser test, especially in mass setting, the lab uses G42, a leading artificial intelligence, and cloud computing company. The advanced artificial intelligence image-analysis model predicts the outcome of each image with precision, speed, and scale.
Abdul Rahman bin Mohammed Al Owais, Minister of Health and Prevention, said:
"We are always following innovations related to the early and rapid detection of COVID-19"
He further added:
"Health officials have been closely monitoring the progress of trials with QuantLase to test this equipment. We are proud to see a technology that works, and that will help to protect our people better."