This article describes the case of a 21 year old boy with calciphylaxis who underwent extensive debridement for his cutaneous lesions.
Calciphylaxis, also called calcific uremic arteriolopathy, is a condition characterized by distinctive calcifications in the tunica media of arterioles and fat tissue. The calcifications manifest mainly on the skin in the form of necrotic scars and ulcers, which are both nasty looking and painful. The condition can also involve peripheral nerve sheaths, muscles and visceral organs. However, most of the cases present with fortified calcifications in the subcutaneous tissue, the hallmark for this disease.
Risk Factors For Calciphylaxis
Calciphylaxis has a number of predisposing factors. However, they are all very controversial. According to studies, factors such as acute and chronic renal failure, liver failure and imbalances in serum calcium and phosphorus, for example, hyperparathyroidism, play an important role. Other risk factors include phenprocoumon, malignancy and deficiencies of vitamin K, protein S and protein C. Once developed, the disease heals very slowly (very low chances) with mortalities as high as 52 percent.
Case Study
A 21 year old boy presented with a history of phenprocoumon intake for pulmonary embolism. He was obese with a BMI of 38.2 and his body showed cutaneous lesions. He had been already diagnosed with calciphylaxis at a different hospital and had received 9 weeks IV regime of Natriumthiosulphate. On initial examination, the doctors noticed that his lesions were tender, well defined and mostly on the upper and lower thigh and the abdomen.
On histological examination, the lesions showed areas of thrombosis and calcification of subcutaneous arterioles, confirming the boy's prior diagnosis.
Management of the Patient
The patient showed a partial thrombin time (pTT) of 50 to 60 seconds due to a deficiency of antithrombin 3. Other comorbidities included dilated cardiomyopathy, IDDM, asthma and hyperthyroidism.
The lesions on the patient's thighs and abdomen, most if not all, showed necrosis with super-added bacterial infections. Hence, in addition to giving him Natriumthiosulphate IV, the doctors decided for a surgical approach. They kept him on opiates during this time. After taking the patient's consent, they started debriding the affected area and employed a consecutive VAC therapy to maintain a clean environment.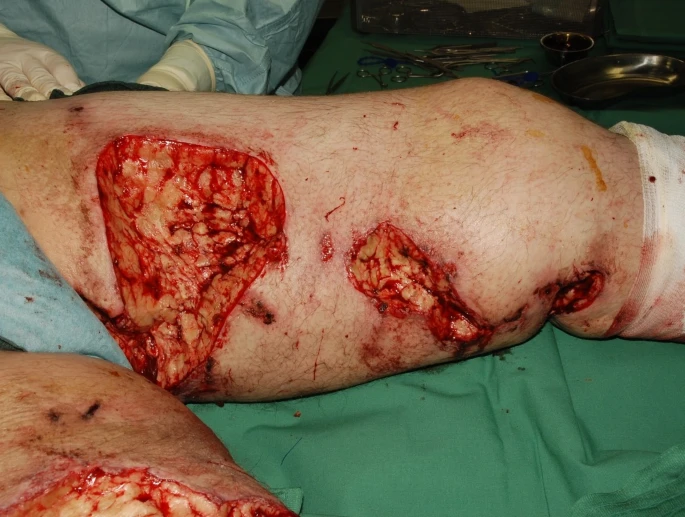 The main challenges faced during the treatment were extensive pain and superimposed infections. Doctors resorted to different antibiotic patterns to control the infections. Moreover, they adjusted the typical calciphylaxis therapy with other agents like Pamidronat and Renegal (in conjunction with Natriumthiosulphate).
Treatment Response
The initial skin grafts used to replace the debrided tissues did not hold up. Hence, another set of grafts was applied 6 months after the admission through buried skin chip grafting. Doctors kept the patient on daily salt baths and physiotherapy sessions to achieve adequate post-operative mobility. Fortunately, the patient's condition improved. He stopped showing any signs of infection and started walking on his own on the ward.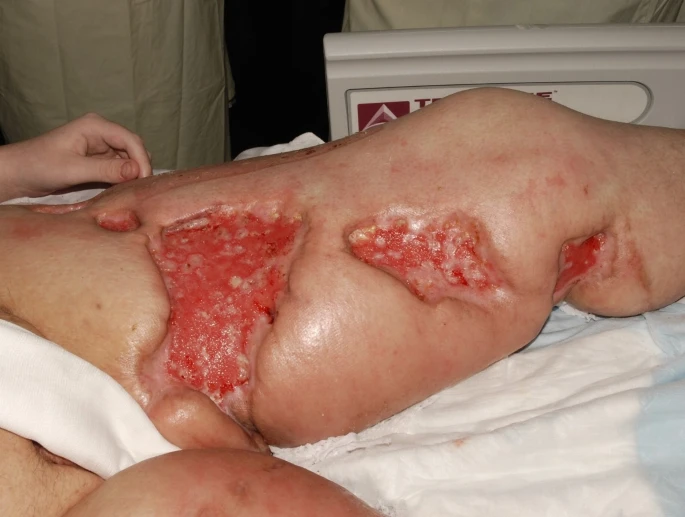 For pain, they tapered the opiates until complete remission. They then discharged the patient and sent him to rehab for further physiotherapeutic assistance. In a nutshell, after about 10 months of different treatment modalities, the patient came out alive and healthy.
Calciphylaxis: A diagnostic and Therapeutic Challenge
Calciphylaxis still remains an understudied disease as we have defined very little with respect to its clear diagnosis and treatment. It usually presents in two phases. It begins as pruritus and erythema and then progresses to painful ulcers in the second phase. These ulcers are very similar to diabetic ulcers which is an important differential for this condition. Other differentials include vasculitis and cholesterol emboli which can make a definitive diagnosis difficult. The diagnostic process requires the excision of subcutaneous tissue and staining it with alizarin red or silver nitrate to differentiate calciphylaxis from other conditions. This can cause a complicated ulcer of its own. Anyhow, even if you succeed with making a clear diagnosis, the next challenge is the lack of a clearly defined therapeutic strategy. Although doctors start the treatment with intravenous Natriumthiosulphate, many a times they have to employ various regimes before any improvement can be seen.
Multidisciplinary Approach
For this patient, doctors used a multidisciplinary approach to reach a positive outcome. In addition to continuing the patient on IV Natriumthiosulphate, they added two different agents to the IV regimen and carried out extensive debridement of the tissues followed by graft replacement. One thing that you notice here is that regular skin grafts used initially did not prove of value. However, buried chip technique showed a positive outcome. Moreover, where an extensive antibiotic treatment (medicine) helped achieved infection control and any chances of relapse, adequate physiotherapy helped mobilize the patient significantly.
Each part played its role to achieve the final outcome. However, the survival prognosis is not good overall. The condition has a high mortality and it depends on the phase of the disease with which the patient presents. According to a study, "Calciphylaxis is usually non ulcerating: Risk factors, outcome and therapy".Fine et al., the mortality for phase one is 33 percent whereas after the development of ulcers, it can rank as high as an 80 percent. Nevertheless, we need more cohort studies to substantiate such figures and know more about the disease prognosis.