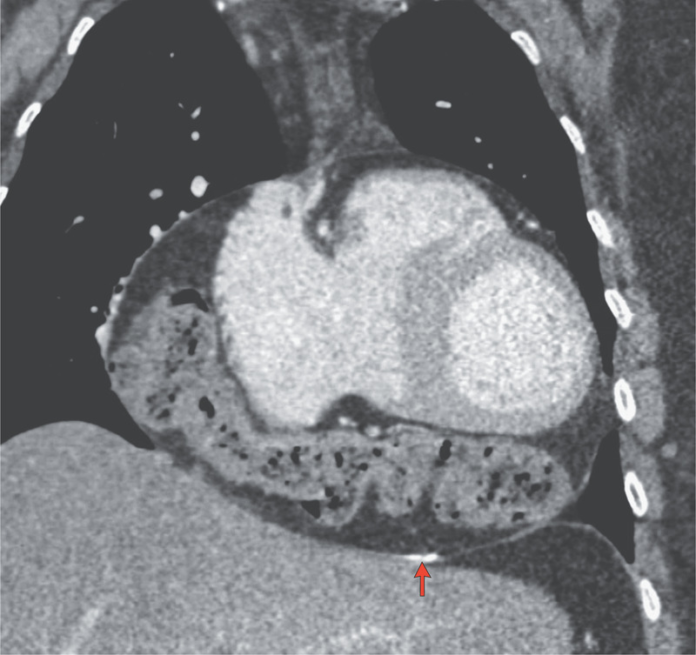 Case of presence of the transverse colon within the pericardial cavity
Herniation of abdominal contents is not an uncommon presentation. This case reported is of special interest because it highlights an atypical presentation of intrapericardial colon. A long delay preceded the diagnosis because of the unusual clinical picture.
The 54-year-old patient presented to the emergency department with complaints of palpitations. She noted that the palpitations improved when she passed bowel or gas. Her medical history revealed constrictive pericarditis that was diagnosed 15 years ago. Doctors treated the patient's condition with pericardial drainage. However, because of the atypical symptoms of the patients, doctors further advised a thoracic-abdominal-pelvic computed tomography with intravenous contrast material. The findings showed the presence of transverse colon within the pericardial cavity. In addition, the findings were also significant for pericardial calcification.
Intrapericardial colon
Intrapericardial colon is a type of diaphragmatic hernia. In this case, the condition was considered to be related to the patient's previous pericardial procedure. The treatment plan included removing the colon from the pericardium with laparoscopic surgery. She was discharged 5 days after surgery. At a follow-up 1 year later, the palpitations resolved and she had no signs of recurrence.
References
Intrapericardial Colon https://www.nejm.org/doi/full/10.1056/NEJMicm2028463