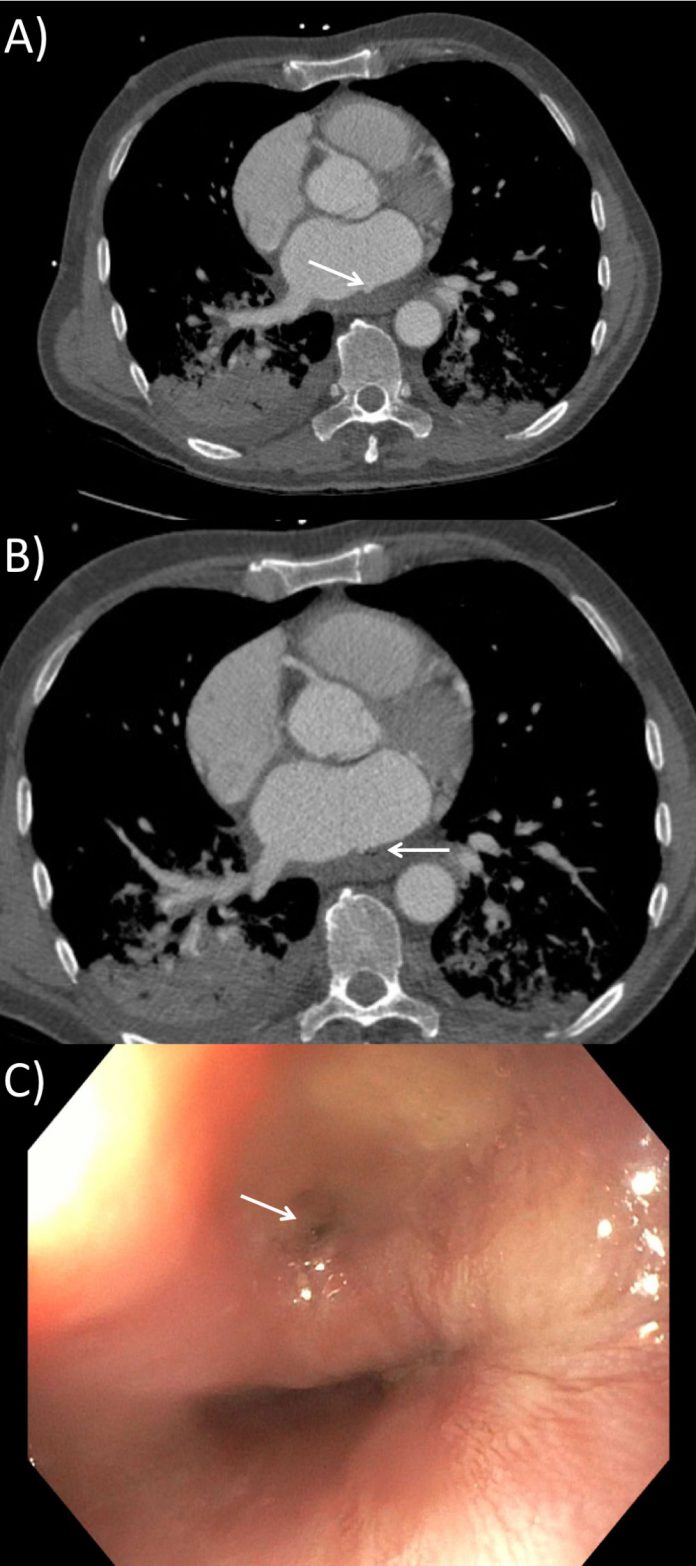 Catheter ablation for atrial fibrillation led to an atrio-esophageal fistula!
A 64-year-old man underwent catheter ablation for atrial fibrillation (AF) one month back. The patient then developed symptoms that prompted investigations leading to a diagnosis of atrio-esophageal fistula. Atrio-esophageal fistula (AEF) is a fatal complication of percutaneous AF ablation; however, the incidence is quite rare.
The patient underwent catheter ablation for atrial fibrillation, which involved isolation of pulmonary veins with wide-area circumferential ablation and posterior left atrial wall with roof and inferior line at 30-35 watts radiofrequency energy delivery.
The patient presented with complaints of fever and palpitation. Thereafter, he collapsed. Electrocardiogram revealed ventricular tachycardia and transient lateral ST elevation. Additionally, he also developed dysphasia with right arm weakness.
Doctors performed a transthoracic echocardiogram, which showed severe biventricular systolic impairment. There were no findings on coronary angiography.
A computed tomography scan of the chest revealed an outpouching or a bulge of the left atrium's posterior wall. CT scan also showed gas locules adjacent to the esophagus. The findings suggested a diagnosis of atrio-esophageal fistula.
The findings of the ECG along with his neurological symptoms favoured a diagnosis of air embolism.
The doctors shifted the patient to the intensive care unit. Intravenous antibiotics, tazocin, and vancomycin were started.
A gastroscopy was performed, which confirmed a 10 mm fistula in the middle one-third of the esophagus (Figure 1C). The surgeons placed a 30 × 135 mm covered stent as a temporary measure.
Subsequently, the patient developed progressive multi-organ failure. Thus, cardiac surgery was not suitable for the patient due to the added risk.
Unfortunately, the patient succumbed to death a week after the presentation.
Factors increasing the risk of atrio-esophageal fistula:
The close proximity of the esophagus and the left atrium, increases the risk of injury during catheter ablation procedures. Following are some of the factors that are thought to increase the risk:
General anesthesia
Ablation time
Power setting
Ablation over the posterior wall
Pre-existing gastroesophageal reflux disease
The patient may present anywhere between 1 and 4 weeks or even up to 2 months with complaints of chest pain, fever, neurological symptoms, including the altered level of consciousness; and gastroesophageal symptoms. The patient may also have an elevated white cell count.
Computed tomography of the chest with contrast is the diagnostic modality of choice. Transthoracic echocardiography may reveal the presence of air in the left heart or pericardium. However, transesophageal echocardiography is not recommended as it can increase the fistula size. Moreover, TEE or any esophageal instrumentation may increase the risk of air embolism secondary to increased esophageal pressure with instrumentation and insufflation; thus, it is best to avoid such procedures.
Having said that, it is imperative to be aware of the potential post-ablation complications and the variable clinical manifestations to diagnose promptly and manage adequately.