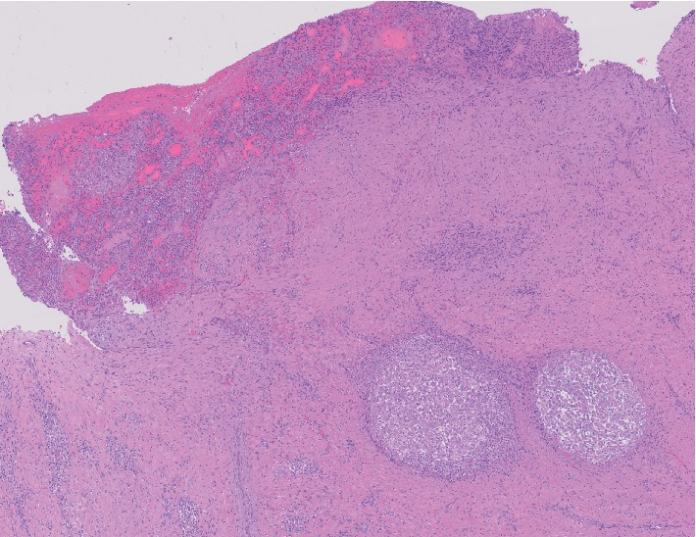 A 24-year-old female patient, 37 weeks pregnant presented to the Internal Medicine Department with supraclavicular lymphadenopathy on the left side. The lymphadenopathy was biopsied using fine needle aspiration biopsy (FNAB). The patient was diagnosed with necrotising sarcoid granulomatosis.
Similarly, in another case, a 31-year-old male patient presented with neurological symptoms including sphincter incontinence, instability, weakness in the right lower limb, peripheral vertigo and bradypsychia. Cerebral nuclear magnetic resonance imaging was remarkable of meningeal uptake. Chest tomography scan showed mediastinal nodules and bilateral bronchoalveolar infiltrates. Histopathological analysis of the biopsied lesion revealed sarcoid-like granulomas with extensive necrosis. Initial treatment included treatment with antituberculous drugs. However, both patients did not respond to treatment, leading to the possibility of necrotising sarcoid granulomatosis.
Treatment with glucocorticoids showed improvement in both patients.
Necrotising sarcoid granulomatosis
The disease is a rare illness which presents with nodular lung lesions. It is a little-known form of disease which has similar pathologic and clinical findings as sarcoidosis. Sarcoidosis is a systemic granulomatous disease of unknown aetiology. Symptoms include, noncaseifying epithelioid granulomas commonly in the lungs, skin and eyes. The presence of necrosis often leads to the misdiagnosis of tuberculosis. This further leads to a delay in treatment. Similarly, the same happened in case of these two patients.
References
Necrotizing Sarcoid Granulomatosis: A Disease Not to be Forgotten https://www.ncbi.nlm.nih.gov/pmc/articles/PMC7007929/