What else can be better than a 24/7 COVID-19 guard?
Amidst the pandemic, researchers of Northwestern University have found a way of spotting the COVID-19 symptoms earlier than usual.
With an ever-increasing number of cases affected by the novel coronavirus, the burden on the healthcare system and the economy is impossible to be exactly put into words. With time, the frontline doctors are testing positive for COVID-19, which is further adding to the chaos. Simultaneously, researchers and scientists are busy finding ways to minimize trouble and solve the mystery. Till a vaccine for COVID-19 surfaces, there is a dire need for detecting the affected individuals early in the course to nip in the bud way ahead. This has now been made possible by a throat sensor for COVID-19 symptoms.
A tiny, flexible electronic sensor has been developed by the researchers of Northwestern University in collaboration with the Shirley Ryan AbilityLab to detect the otherwise ignored symptoms at an earlier stage. Thereafter, the electronic sensor can collect and track the symptoms.
What symptoms can it record?
It can detect and track body temperature, heart rate, coughing, cough counts, breathing pattern, and respiratory rate. These are recorded uninterruptedly.
By recording these symptoms, any recent changes in the severity can be detected earlier, hence an opportunity to get prompt medical help to avoid dangerous consequences.
How does it work?
From a user's point of view, it is more important to know where it is worn.
The soft, flexible, stamp-sized, wireless device is stuck to the skin of the throat, more precisely, just below the suprasternal notch. It can be worn without any discomfort during the normal physical activities of life, including sleep.
At this position, it is in close proximity to the chest, thus collects the relevant data, then wirelessly and automatically transmits the data to a HIPAA-protected cloud. This ensures rapid, real-time, continuous, and remote monitoring.
Besides helping detect symptoms is those with regular exposure, such as healthcare professionals, this monitoring can help hospitalized patients for continuous monitoring. In other words, it is useful for both the COVID-19 positive patients and those at risk.
Nobody has ever collected this type of data before." Said John A. Rogers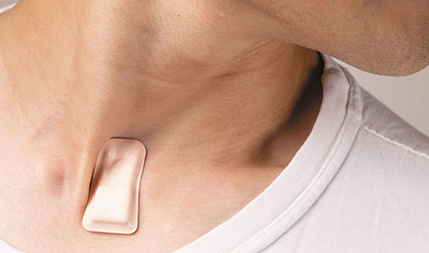 Has the sensor been tested yet?

Around 25 patients used the sensor to track their symptoms, 24/7, round the clock. More than 1,500 hours of data were collected equivalent to more than a terabyte.
Arun Jayaraman, a research scientist at Shirley Ryan AbilityLab, who is leading the algorithm development, said:
"We anticipate that the advanced algorithms we are developing will extract COVID-like signs and symptoms from the raw data insights and symptoms even before individuals may perceive them. These sensors have the potential to unlock information that will protect frontline medical workers and patients alike — informing interventions in a timely manner to reduce the risk of transmission and increase the likelihood of better outcomes."
Fingers crossed for a better and more effective management approach!
References
EDITORS, M. (2020, May 04). Flexible Throat Sensor Powered by AI to Track COVID-19 Symptoms. Retrieved from Medgadget: https://www.medgadget.com/2020/05/flexible-throat-sensor-powered-by-ai-to-track-covid-19.html

Morris, A. (2020, May 04). Monitoring COVID-19 from hospital to home: First wearable device continuously tracks key symptoms. Retrieved from Northwestern Now: https://news.northwestern.edu/stories/2020/04/monitoring-covid-19-from-hospital-to-home-first-wearable-device-continuously-tracks-key-symptoms/