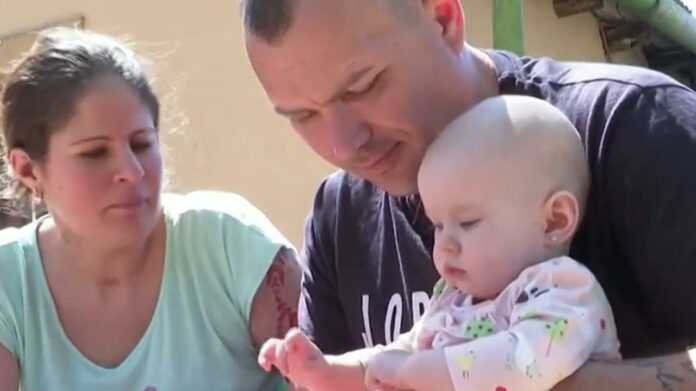 A COVID-19 infected woman, in a coma for more than a month, woke up to find out she had given birth to a daughter.
Hungarian mother, Szilvia Bedo-Nagy was in the last trimester of her pregnancy when she contracted COVID-19. She initially quarantined at home. But when her health started to worsen, she was shifted to the hospital. She faced trouble breathing and was soon diagnosed with COVID-19 pneumonia. Doctors feared the fetus might not survive due to the low oxygen supply and transported her to a hospital in Budapest. There, in the 34th week of pregnancy, she underwent an emergency cesarean section and gave birth to Napsugar, Hungarian for 'sunshine'. Szilvia was then transferred to the Intensive Care Unit (ICU) and put on a ventilator. Her deteriorating condition then led doctors to put her on an artificial lung and later an induced coma.
While Szilvia fought COVID-19 and remained in a coma, her husband, Jozsef Bedo looked after the couple's newborn daughter.
No Chance of Recovery
Jozsef did not have much hope that his wife would wake up; a possibility pointed out to him by the doctors. However, on Christmas Eve the hospital awoke Szilvia from the coma. Since she was still breathing with a respirator, she couldn't speak and used visual signals to communicate. Despite the disorientation she felt upon being awoken from the coma, Szilvia immediately pointed to her belly, asking when she had given birth.
Szilvia spent more than 40 days in an induced coma. Her doctor, Bela Merkely finds her case unusually complicated. However, Szilvia is recovering well and went home in mid-April.
Although COVID-19 can lead to premature birth, it is unclear as to whether infection can pass from an infected mother to the fetus during pregnancy or delivery. Researchers have yet to discover the virus in samples of amniotic fluid or breast milk. Moreover, the World Health Organization does not recommend isolation of infected mothers as early close contact and breastfeeding helps the baby thrive. However, they should wear a mask while in contact with the baby and practice regular hand washing.