US national cycling champion, Mrs. Gwen Inglis hit by a car while riding with her husband on a Sunday morning.
US national cycling champion, Mrs. Gwen Inglis died after being struck by a car on a beautiful Sunday morning. The 47-year-old, reigning US road race champion in the 45-to-49 age group, was riding with her husband, Mike, in the Denver suburb of Lakewood. Unfortunately, a Nissan sedan drifted into the bike lane where Inglis was riding.
A 29-year-old male, Ryan Scott Montoya, was riding the Nisan sedan which struck the cycling champion.
The authorities suspected that the driver was drunk at the time of accident.
Montoya did not flee the scene and was facing possible charges of vehicular homicide. He told the police he was not using his phone or texting at the time of the accident. However, he admitted drinking alcohol and using marijuana one night before the accident.
Although, rescuers took Inglis Gwen immediately to the hospital, she unfortunately succumbed to death.
The accident took place on Sunday, and on Tuesday, The Lakewood community gathered around the crash for a Gwen Inglis Colorado ghost bike dedication in her remembrance.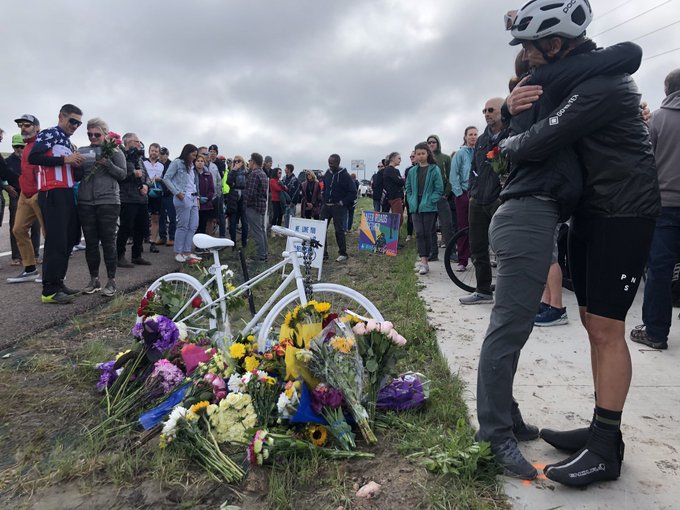 The Bicycle Racing Association of Colorado, part of USA Cycling, wrote:
 "There are few words that can express the feeling of loss for any of our cycling community, and Gwen was a particularly special person. She was a multiple National and State Champion on the bike and very well-known across the cycling community in Colorado. Even more impressive was her character off the bike."
Mike, Gwen's husband and also a US national cycling champion, expressed his feelings by saying:
"It just hurts. Everything hurts, and it's really enraging, beyond enraging, that in the state of Colorado it seems like people get away with lots of DUI's. It was so surreal to have my wife, my best friend, my stoker on my tandem not here anymore."
Every year approximately 2% of motor vehicle crash deaths are bicyclists. Moreover, deaths among bicyclists of age 20 years and older have tripled.
There is no denying the fact that bicyclist deaths have decreased by 16% since 1975. However, there is a 36% increase since 2010 when the bicyclist deaths were the lowest. Around 90% of these deaths in the year 2019 involved bicyclists of ages 20 and older.
In 2019, around 65% of bicyclist deaths occurred on major roads. Whereas, 32% occurred on minor roads. Deaths of bicyclists <20 years were more likely to occur on minor roads compared with deaths of bicyclists >20 years.
Despite the percentage of incidents, one fact is for sure to be remembered: A majority of the crashes are avoidable if motorists and cyclists abide by the rules of the road and watch out for each other.