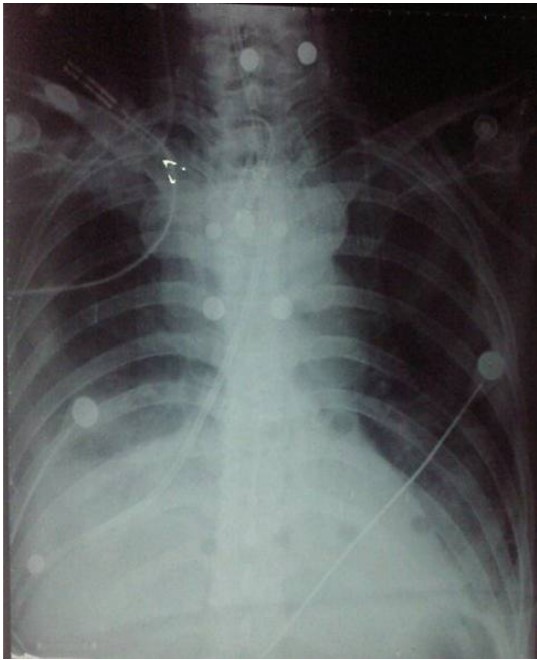 After a road traffic accident, doctors inserted a nasogastric tube in a 33-year-old male patient. However, the NG tube entered the pleural space despite a conventional verification of correct placement!
A 33-year-old male patient presented to the emergency department after a road traffic accident. On presentation, he had a dilated pupil and a C2 spine fracture which subsequently led to paraplegia. Moreover, he had localized pain on his right upper extremity with an extension on his left upper extremity. He required intensive care unit admission and nasogastric tube placement.
In the ICU, the doctors intubated the patient as he required mechanical ventilation. His Glasgow coma scale (GCS) was 7. The doctors also passed a nasogastric tube uneventfully. His physical examination was normal. Moreover, the serological investigations were also normal.
On the 30th day of hospital admission, his nasogastric tube was changed. There are several ways of confirming the position of the NG tube after insertion. These include clinical observation for signs of respiratory problems, auscultating for gurgling sound while insufflating air, aspiration of gastric content from the tube, chest X-ray, ultrasonography, etc.
In this patient, they confirmed the placement clinically by auscultating for a gurgling-like sound upon air insufflation. 50 mL of air was insufflated and a low gurgling-like sound was heard over the epigastric region by auscultation.
Moreover, the patient had no respiratory problem during NGT insertion.
However, on the 1st day of NG tube insertion, respiratory sounds decreased on the right hemithorax. Additionally, his tidal volume decreased and airway pressures increased.
Immediate chest radiography revealed that the tip of the NG tube was lying in the right pleural space. CXR confirmed the diagnosis of right-sided pneumothorax.
The doctors inserted a chest tube on the right side.
During serial follow-ups, the pneumothorax gradually resolved.
Although, nasogastric tube insertion is a simple procedure, there are chances of its misplacements. The risk increases in unconscious patients. Other risk factors include supine position, absent gag reflex, trauma, pre-existing lung disease, agitated patients, and mechanical ventilated patients.
The conventional clinical signs to verify tube placement include the absence of respiratory distress, auscultation while insufflation, and aspiration of gastric contents. However, most misplacements remain undetected despite using these methods accurately.
This patient's NG tube placement was confirmed on auscultation. However, auscultation cannot distinguish between oesophagal, gastric, bowel, and respiratory tract placement. Therefore, it is not uncommon to hear a gurgling sound on auscultation, yet end up with a misplaced NG tube. Chest X-ray is the gold standard for verifying correct NG tube placement, however, CXR is not a quick method to confirm.
Having said that, it is imperative to verify the NG placement in high-risk patients. Therefore, in such patients, radiological verification of correct NG tube placement is a method of choice as compared to the conventional techniques.