A 67-year-old male with neck pain used to get acupuncture to relieve his pain. However, once he developed cellulitis at the acupuncture site!
Acupuncture is a technique of alternative medicine that involves inserting fine, thin needles at specific points of the body. It is an age-old Chinese traditional healing technique. Once confined to the Chinese territory, its fame gradually crossed the borders. Therefore, in recent times, acupuncture is a part and parcel of many individual's lives. However, the risk of infection associated with acupuncture should not be overlooked. Although complications are rare, these carry a high rate of morbidity and mortality.
Here is a case report of infection secondary to acupuncture:
A 67-year-old male presented to the emergency department with complaints of malaise and low-grade fever. Moreover, he complained of feeling generally unwell with a history of progressively worsening neck pain. Upon inquiring, the patient told the doctors that acupuncture helps him with the pain of cervical spondylosis, therefore, he recently completed another 5-week acupuncture course.
Additionally, the patient had a history of chronic obstructive pulmonary disease (COPD), osteoarthritis, and post-traumatic stress disorder. He was allergic to penicillin as he probably developed angioedema on past exposure to penicillin.
The patient was a smoker and continued smoking despite the diagnosis of COPD.
The patient was not using steroids or any immunosuppressive medications. Nor he had a history of illicit drug abuse.
Examination revealed a febrile and tachycardic male of average height and built. The rest of the vitals were normal. Respiratory examination and CXR were consistent with COPD. There was no active chest infection.
The doctors noticed a 30×40 mm area of cellulitis on the posterior aspect of his neck (at the site of acupuncture). They also noticed a decreased range of motion of the neck. Since the patient also had cervical spondylosis, the change in the ROM was difficult to be assessed. The patient had no signs of meningism. The rest of the examination was normal.
Serology revealed a white cell count of 14.10×109 (neutrophilia of 85.5%, absolute value 12.1×109/L). C reactive protein was elevated at 258 mg/L.
Blood cultures grew methicillin-sensitive Staphylococcus aureus.
Transthoracic echocardiogram ruled out endocarditis. Gadolinium-enhanced cervical MRI confirmed septic arthritis of the atlantoaxial joint.
Flexion-extension cervical spine X-rays showed no dynamic instability. The neurosurgical team advised a surgical procedure. However, they did not recommend any specific immobilisation.
During the patient's 8-day hospital stay, he received intravenous vancomycin and intravenous cephazolin for 6 weeks.
At the 6-week-follow-up, the white cell count improved to 7.80×109/L and C reactive protein reduced to 10 mg/L. Besides, the patient showed substantial clinical improvement.
Post-treatment MRI revealed mild sclerosis at the articular surfaces of the atlanto-dens articulation, with features suggesting healing arthritis.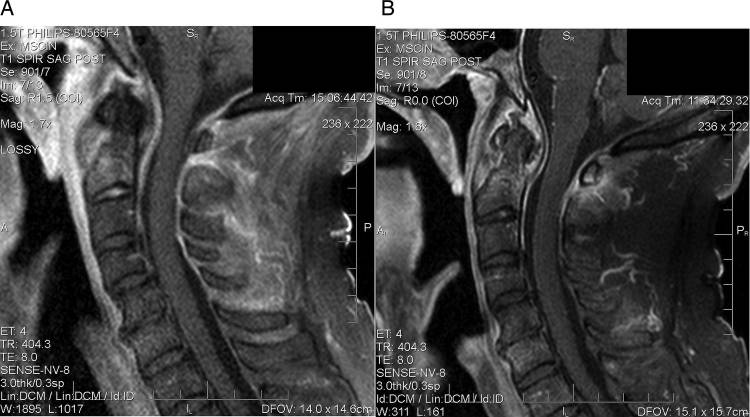 Reference: Robinson A, Lind CR, Smith RJ, Kodali V. Atlanto-axial infection after acupuncture. BMJ Case Rep. 2015;2015:bcr2015212110. Published 2015 Dec 11. doi:10.1136/bcr-2015-212110