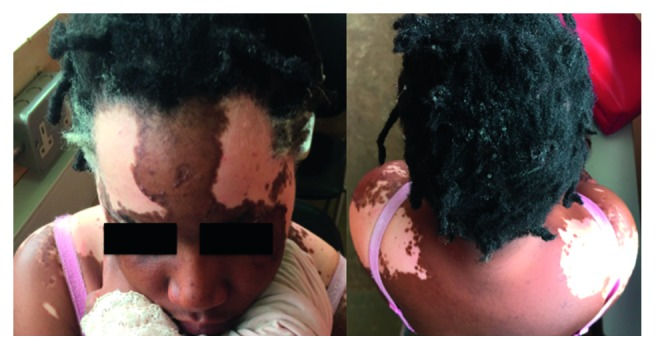 Vogt–Koyanagi–Harada (VKH) syndrome is an autoimmune disease of unknown pathogenesis.
Similarly, there is not much information about the syndrome in the African population.
This case is of an otherwise healthy Ugandan woman with VKH syndrome. 
This article describes the case of a 28-year-old Ugandan female patient diagnosed with Vogt–Koyanagi–Harada syndrome. The patient presented to the eye clinic with a sudden onset of blurring of vision in both eyes with a history of 2 weeks. In addition, the patient complained that the blurring worse worse in the morning. Other symptoms included a 1-week history of nonproductive cough, running nose, sore throat and intermittent fevers.
The symptoms were suggestive of a viral upper respiratory tract infection.
Therefore, doctors managed it conservatively. She did not have any history of neck stiffness, headache, floaters, reddening of the eyes or excessive tearing. Although, she did complain of itching in both eyes. Her medical history did not reveal any chronic eye disease, previous surgery or trauma on the eyes. She had a family history of blindness that affected four paternal uncles. They developed sudden loss of vision, also. Moreover, had vitiligo-like skin patches.
The patient's eye examination showed good visual acuity in both eyes with 10 mmHg and 11mmHg pressures in left and right eye. Slit lamp examination showed vitreous inflammatory cells, posterior synechiae and pigmented keratic precipitates. Doctors managed her for acute uveitis with Maxitrol eye drops.
Two weeks later the patient complained of sudden onset frontal headache.
The patient described the pain as throbbing in nature with pain, tearing and reddening in both eyes. She also complained of visual loss, although, did not have any history of convulsions, loss of consciousness, phonophobia, photophobia and neck pain. She also developed symptoms of impaired bilateral tinnitus and impaired hearing in her right ear. However, she did no experience any associated symptoms, for example, nausea, vomiting, dizziness, vertigo or any associated discharge. Her vision improved significantly with 10 mg prednisolone daily for a week. However, it remained blurred with floaters. Her hearing also improved but tinnitus persisted.
5 weeks later, she developed an intensely itchy and painful papular rash.
The patient developed a generalised, intensely itchy and painful papular rash 5 weeks after onset of symptoms. The rash healed after a week but left hypopigmentation around the face and trunk. This was also associated with whitening of the scalp hair, lashes and eyebrows with no hair loss or balding. Clinical examination showed multiple "chalk-white" patches that were sharply demarcated on both sides of the forehead and upper back. The macules were also discretely scattered on the torso, upper and lower limbs.
Fundoscopy was remarkable of a "sunset glow fundus", papillitis, blurring of the optic disc margin, serous retinal detachment with normal retinal vessels bilaterally. However, inflammatory cells were evident in the vitreous of the left eye.
Based on the findings, doctors diagnosed her with Vogt–Koyanagi–Harada syndrome. Mantoux test was negative. The patient was restarted on oral prednisolone 15 mg, for 2 weeks daily in addition to oral azathioprine, 50 mg daily. Doctors counselled her regarding her condition and the fact that her poliosis and vitiligo were irreversible.
References
Vogt–Koyanagi–Harada Syndrome in a Ugandan: Diagnostic and Therapeutic Challenges https://www.ncbi.nlm.nih.gov/pmc/articles/PMC6766141/