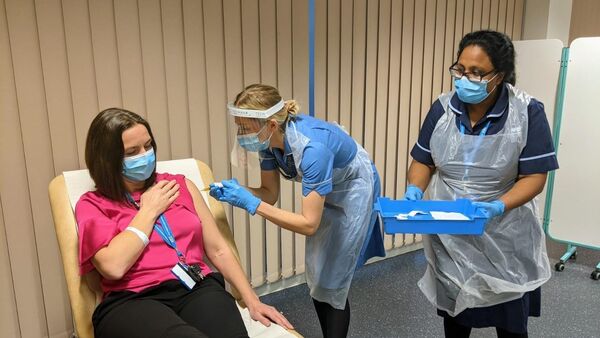 Johnson & Johnson's single-dose vaccine shows 66% efficacy at preventing moderate to severe disease.
Moreover, phase 3 trial data revealed that the vaccine also protected against severe infection from the South African variant.
The company will apply for an emergency use authorization from the FDA in February.
On 29th January, Johnson & Johnson released data from the phase 3 trials of its single-dose Janssen vaccine. The phase 3 ENSEMBLE trial that began in September of last year, recruited over 43,000 participants from across eight countries. Not only did the multi-continent study include significant representation from those aged 60 years or above, but also those with comorbidities. Including obesity, hypertension, and diabetes among others.
Researchers assessed the efficacy of the vaccine 14 and 28 days after vaccination. According to the statement released Friday, the vaccine was overall 66% effective at preventing moderate to severe disease. Moreover, the vaccine showed an efficacy of 85% at preventing severe disease and hospitalization, and death from COVID-19.
Johnson & Johnson's Vaccine is The Best Option
Dr. Paul Stoffels, chief scientific officer at Johnson & Johnson, called the single-dose vaccine the best option in the setting of a pandemic. Despite its lower efficacy as compared to the currently approved vaccines, the Johnson & Johnson vaccine can be a useful tool in alleviating the burden of disease. Moreover, the vaccine can remain stable for up to two years at -20°C (-4°F). And for three months in refrigerator temperatures of 2-8°C. Thus, making its distribution easier.
Although the vaccine showed an overall efficacy of 66% at preventing moderate to severe disease, the range had varied across the countries. The study showed the vaccine was 72% effective in US, 66% in Latin America, and 57% in South Africa. The results in South Africa are extremely significant, because over 95% of the cases in the country are from the new contagious variant. Thus, proving the vaccine's effectiveness against the new strain.
How Does it Work?
Johnson & Johnson's vaccine uses an adenovirus – a virus that causes the common cold – as a viral vector. The genetic code for the novel coronavirus is integrated into a weakened form of adenovirus. Once injected into the human body, it tricks the cells to produce the coronavirus spike protein. In response, the body then produces antibodies; producing an immune response. AstraZeneca also uses a similar vaccine technology; however, they use an adenovirus found in Chimpanzees.
The company plans to submit its data in a peer-reviewed journal. They are also expected to apply for an emergency use authorization from the US Food and Drug Administration (FDA) in the coming weeks.
Reference:
"Johnson & Johnson." Content Lab U.S., 29 Jan. 2021, www.jnj.com/johnson-johnson-announces-single-shot-janssen-covid-19-vaccine-candidate-met-primary-endpoints-in-interim-analysis-of-its-phase-3-ensemble-trial.