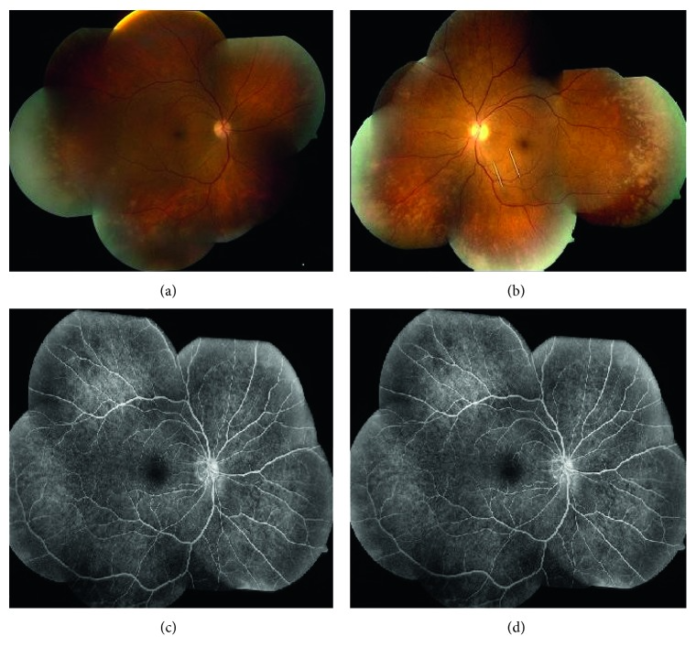 Eye disorder caused by varicella zoster meningitis in HIV patient.
This article describes the case of a 49-year-old female patient with complications of HIV associated with varicella zoster meningitis and optic neuritis. The patient presented with complaints of left-ear pain, fever, headache and blurred vision with a history of 2 weeks, also.
Physical examination showed crusted vesicles in the left ear. In addition to this, a vesicular rash was evident on the left side of the patient's face with herpes zoster. Ophthalmic examination showed decreased visual acuity in the right eye with an afferent pupil defect. However, examination of the left eye showed normal visual acuity. Fundoscopy did not show any significant findings. CSF analysis was remarkable of viral meningitis. VZV polymerase chain reaction confirmed the diagnosis of varicella zoster meningitis. Similarly, MRI findings were consistent with the diagnosis of retrobulbar optic neuritis.
Lab work showed low CD4 count with high HIV viral load, leading to the diagnosis of AIDS.
Doctors prescribed the patient with tenofovir, emtricitabine, and boosted darunavir for management of AIDS. In addition, high dose methylprednisolone for managing optic neuritis. Her symptoms of fever and headache resolved after treatment. Doctors discharged her with valacyclovir and prednisone taper.
However, 4 weeks after the patient was discharged she returned to the emergency with sudden loss of vision in the left eye with no pain. Doctors advised a cerebral angiogram which showed stenosis of the left ophthalmic artery. She was given tPA which showed considerable improvement in her visual acuity, initially. Treatment included acyclovir and steroids. Vitreal fluid PCR confirmed the diagnosis of varicella zoster virus. Moreover, doctors recommended laser walling to prevent retinal detachment with intraocular ganciclovir and IV cidofovir to prevent progression of necrosis.
The patient responded well to treatment with an improvement in CD4 count after 6 months. Her visual acuity also showed improvement after one year.
References
Varicella Zoster Meningitis, Optic Neuritis Preceding the Development of Posterior Outer Retinal Necrosis, and Central Retinal Artery Occlusion in a HIV Patient https://www.ncbi.nlm.nih.gov/pmc/articles/PMC6701357/