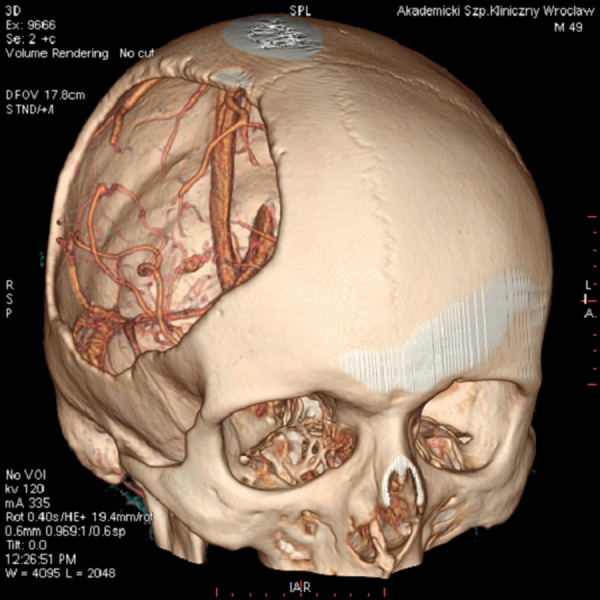 After a 49-year-old man, CT scan of the head and forensic examination helped in the criminal investigation by revealing the cause of head trauma and a potential crime weapon.
A 49-year-old man presented to the emergency department after he fell unconscious.  He was found lying on the floor. Physical examination in the emergency department revealed posttraumatic haemorrhagic lesions of the scalp. The doctors suspected injury to the head. Another differential was stroke; therefore, they immediately ordered a computed tomography (CT) scan of the head to rule out intracranial haemorrhage.
CT scan of the head revealed an extensive lesion on the right side of the skull, most probably due to a frontoparietotemporal craniectomy. Additionally, it also revealed a subarachnoid haemorrhage in the basal cisterns, cerebellopontine angle, and Sylvian fissure. Right side revealed a distinct, hyperdense, and streaky area lesion representing haemorrhage. It spanned from parietal cortex to the third ventricle.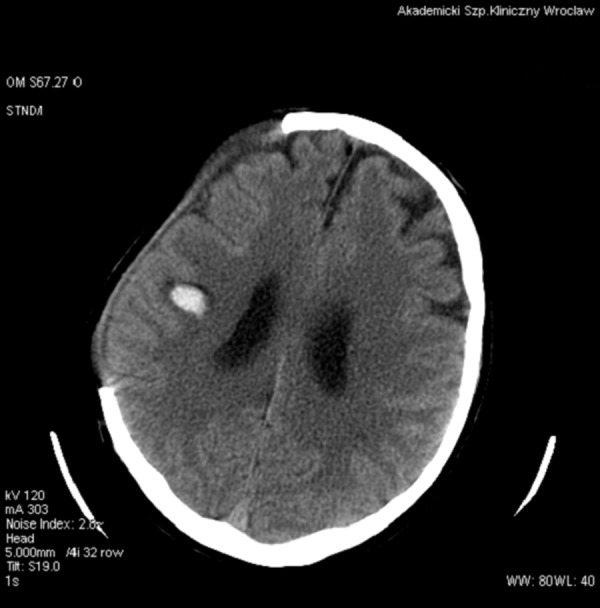 Thereafter, the doctors performed a CT angiography to localise the bleeding source.
CT angiography:
CT angiography revealed Maximum Intensity Projection (MIP) images in the frontal plane. Since the haemorrhagic focus assumed a streaky shape, it strongly suggested that there is a high probability of a stab wound with a sharp instrument as the source of injury. Therefore, the team decided to perform a forensic examination of the scalp, which identified a linear incision 15mm from the margin of the craniectomy hole. The incision overlapped the periphery of the hyperdense focus relative to the hole. This confirmed the connection between the skin incision and the site of intracerebral bleeding.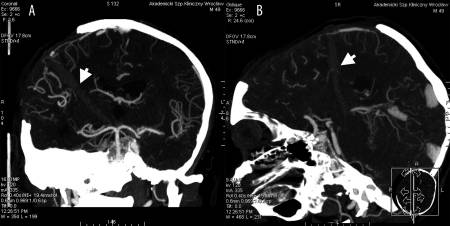 These facts strongly suggested that the brain injury was not accidental, in fact, the police or the investigating team should find the potential crime instrument. From the results of the forensic examination, a knife which was found at the scene could now be connected to the crime. Previously, they did not link the knife to the crime. However, in the light of the imaging and forensics, the knife became a potential crime instrument since its blade size corresponded strictly to the streak of hyperdense blood.
Reference:
Banaszek A, Guziński M, Sąsiadek M. Computed tomography angiography reveals the crime instrument – case report. Pol J Radiol. 2010;75(2):98-100.