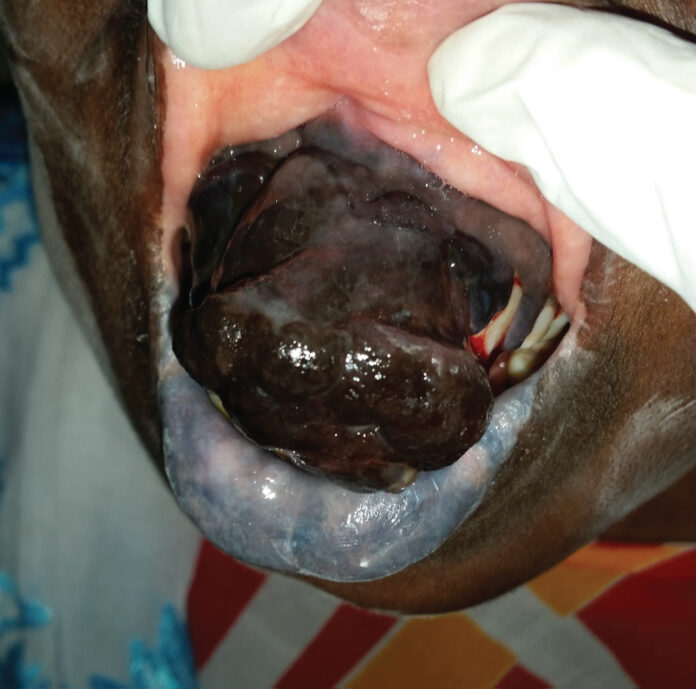 Traditional gingival tattooing may be the cause or eliciting factor behind melanoma of the gingiva
A 57-year-old, Senegalese woman presented with complaints of a progressively growing, hyperpigmented mass inside the oral cavity for the past 10 months. Moreover, the patient also reported an unintentional weight loss in this period. She had a history of repetitive traditional gingival tattooing using thorns. Traditionally, these thorns are needles, tipped with lantern soot and resin from the plant Datura stramonium. The purpose behind the gingival tattooing is self-expression and hiding the natural pink-red colour of the gingiva. Sometimes, this is done as homeopathic remedy for the dental infection/diseases.

Examination of the oral cavity revealed a large, 7 × 4 cm, pigmented tumour extending from the right maxillary gingiva to the left maxillary gingiva. Additionally, the mass had a firm consistency. The physician noticed that the tumour bled slightly on touching. Examination of the lymph nodes revealed sub-mandibular lymphadenopathies. Moreover, an incisional biopsy with histopathological examination confirmed the clinical diagnosis of malignant melanoma.
Serological investigations revealed anaemia with haemoglobin of 6.9 g/dl and hypoalbuminemia at 23 g/l. HIV serology was negative.
Unfortunately, she died after 2 weeks, prior to any therapeutic perspective.

Oral malignant melanomas are extremely rare lesions accounting for only 0.5% of all oral malignancies and < 1% of all other melanomas. The lesions are clinically aggressive. Owing to its rarity, the exact aetiology still remains unknown. A hypothesis suggests that repeated microtrauma on pre-existing nevi may be an aetiology.
The lesion is often asymptomatic besides a hyperpigmented patch on the gingiva which remains unnoticed.  Therefore, the prognosis for gingival melanomas remains very poor. However, if diagnosed early in the course and managed, the prognosis is better.
Since the lesions are biologically aggressive yet clinically silent, a high index of suspicion and early detection and diagnosis for any pigmented gingival lesions are the keys to a better prognosis.
References:
Padhye A, D'souza J. Oral malignant melanoma: A silent killer?. J Indian Soc Periodontol. 2011;15(4):425-428. doi:10.4103/0972-124X.92587

Brooks JK, Reynolds MA. Ethnobotanical tattooing of the gingiva: literature review and report of a case. J Am Dent Assoc. 2007 Aug;138(8):1097-101. doi: 10.14219/jada.archive.2007.0322. PMID: 17670877.

Birame S, Moussa D (2021) Malignant Melanoma of Gingiva. Clin Med Img Lib 7:171. doi.org/10.23937/2474-3682/1510171