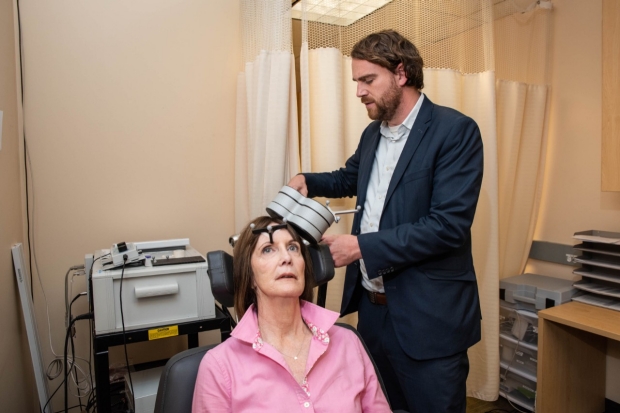 Stanford's experimental treatment causes remission for almost 80% of participants with severe depression.
A team of researchers at Stanford University have developed an individualized form of transcranial magnetic stimulation to treat depression. Called Stanford accelerated intelligent neuromodulation therapy (SAINT), or Stanford neuromodulation therapy (SNT), the treatment has already received FDA approval. The team recently conducted a double-blinded trial for the experimental depression treatment. The results of the trial are available in The American Journal of Psychiatry.
Stanford researchers recruited 29 participants with treatment-resistant depression. Study participants either received the new SNT treatment or a sham treatment. After just five days of treatment, 78.6% of the participants went into remission and no longer felt depressed. Comparatively, only 2 people in the sham group went into remission. 12 out of the 14 participants in the SNT group reported a significant improvement in their symptoms. Moreover, four weeks after treatment, their scores on the Montgomery-Åsberg Depression Rating Scale (MADRS) saw a mean reduction of over 50%.
Additionally, the study participants reported only a few side effects which included headaches and temporary fatigue.
A Game Changer
Stanford's experimental depression treatment uses transcranial magnetic stimulation to target brain regions involved in depression. A magnetic coil helps deliver 1800 magnetic pulses to the desired region. The FDA recommends six weeks of the once-daily sessions.
Study participants received 10 10-minute sessions per day, with a break of 50 minutes each. Prior to the procedure, researchers conducted MRI scans to locate regions of the dorsolateral prefrontal cortex. This area of the brain is involved in problem-solving, executive functioning, and inhibiting unwanted responses. They then chose the subregion with the strongest connection to the subgenual cingulate, a brain region mostly overactive in depressed individuals.
Moreover, the researchers also assessed the participants' cognitive function before and after treatment. Although they did not find any adverse effects, the participants did report an improvement in performing mental tasks and solving problems.
Since the trial showed a rapid improvement in symptoms following treatment, study authors believe the new treatment can be crucial for people who have reached their breaking point. According to senior author, Dr. Nolan Williams, the risk of suicide is highest immediately after hospitalization. He, therefore, hopes to make the treatment a regular part of emergency departments.
Reference:
Cole, Eleanor J., et al. "Stanford Neuromodulation Therapy (SNT): A Double-Blind Randomized Controlled Trial." American Journal of Psychiatry, 2021, doi:10.1176/appi.ajp.2021.20101429.